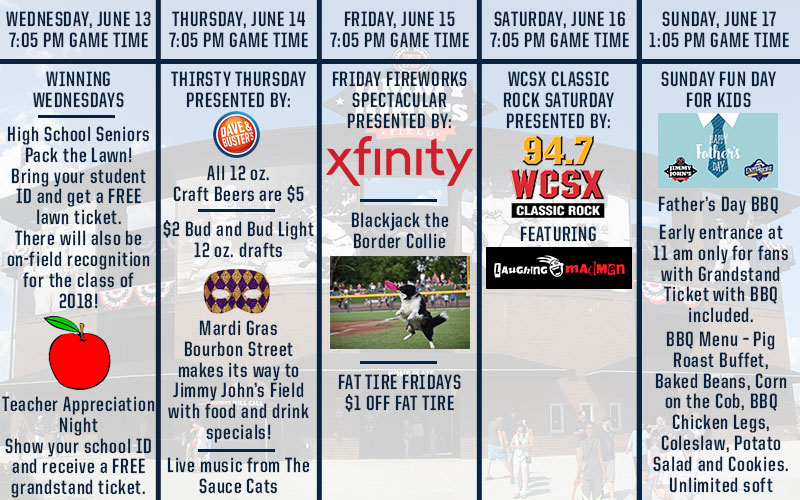 Upcoming Promotions – June 13-17
June 10th, 2018
UPCOMING GAMES:
Wednesday, June 13
Birmingham Bloomfield Beavers (6-8) vs. Westside Woolly Mammoths (6-4), 7:05 p.m. (Gates open at 6 p.m.)
Buy Tickets
PROMOTIONS: Winning Wednesdays make its debut this season with Seniors Pack the Lawn, Teacher Appreciation and Live Music from The Situations. Graduating high school seniors can show their student ID to receive a free lawn ticket. Teachers will receive a free grandstand ticket with work ID.
All graduating seniors and teachers will be recognized on the field. Report to guest services to check in upon arrival at the ballpark.
Thursday, June 14
Eastside Diamond Hoppers (8-4) vs. Utica Unicorns (4-8), 7:05 p.m. (Gates open at 6 p.m.)
Buy Tickets
PROMOTIONS: Thirsty Thursday, presented by Dave & Buster's, continues to bring $2 Bud and Bud Light (12 ozs), $5 craft beer specials in the Short Hops Craft Beer Garden, and it's Mardi Gras at Jimmy John's Field.
The fan with the best Mardi Gras costume will win four tickets to a future game. Beads will be given out and there will be a Mardi Gras Mask Making Station for Kids!
Bourbon Street makes its way to the ballpark with food and drink specials!
– $5.00 Hurricane Daiquiri's At the Right Field Picnic Bar
– $5.00 Traditional Cajun Gumbo Located at Big Bone BBQ
– $5.00 Beignets Located at The Sweet Spot
– $5.00 Cajun Shrimp Po Boys at The Philly Stand
– $5.00 Red Beans and Rice at Hacienda Mexican Southwest Foods Stand
– $5.00 New Orleans Hand Grenades at Back Stop Bar
– $5.00 Spicy Jalapeno Patron Margaritas located at the Patron Stand
The AAA Clubhouse will offer a Limited Menu featuring BBQ Shrimp, Etouffee and Jambalaya!
Friday, June 15
Unicorns vs. Woolly Mammoths, 7:05 p.m. (Gates open at 6 p.m.)
Buy Tickets
PROMOTIONS: XFINITY Fireworks Spectacular and Blackjack the Border Collie will go airborne and catch some frisbees.
Saturday, June 16
Woolly Mammoths vs. Beavers, 7:05 p.m. (Gates open at 6 p.m.)
Buy Tickets
PROMOTIONS: WCSX Classic Rock Saturday welcomes a Led Zeppelin Tribute Band, The Laughing Madmen, to play live music from the Dana St. Clair Stage in right center field. WCSX personalities will also be on site for the duration of the game.
Sunday, June 17
Beavers vs. Diamond Hoppers, 1:05 p.m. (Gates open at Noon)
Buy Tickets
PROMOTIONS: Sunday Fun Day celebrates all the Fathers out there for a nice Father's Day BBQ;
Early entrance at 11 am only for fans with Grandstand Ticket with BBQ included Grandstand Ticket with BBQ Included – Grandstand ticket price plus $15 for BBQ – 11 am seating
BBQ available in party patio from 11 am to Noon. Party Patio Ticket with BBQ Included – $25 ticket with seating for BBQ and the game in party patio area – 12:15 pm seating; BBQ available in party patio areas from 12:15 pm to 1:30 pm.
BBQ Menu – Pig Roast Buffet, Baked Beans, Corn on the Cob, BBQ Chicken Legs, Coleslaw, Potato Salad and Cookies. Unlimited soft drinks.
#YourSummerDestination