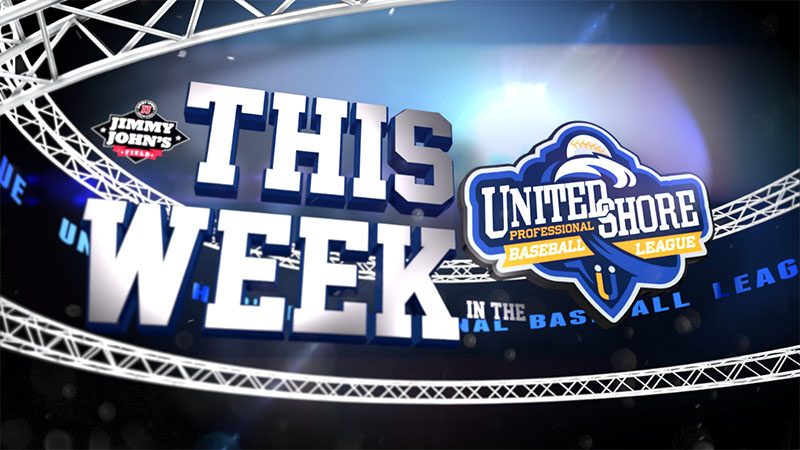 This Week in the USPBL – Episode 6
June 18th, 2019
ROCHESTER, Mich. – The Birmingham Bloomfield Beavers are riding a league-best four-game winning streak and the Westside Woolly Mammoths are putting on an offensive display to highlight This Week in the USPBL on Tuesday.
The Beavers used a combination of hitting and pitching to win their last four games. Left-handed pitcher Gerry Salisbury earned his second straight win on the mound and Dylan Collett has not allowed a run in 10.2 innings out of the bullpen. Collett ranks second in the USPBL with a 2.12 earned run average and Salisbury is fifth with a 2.65 ERA.
The Woolly Mammoths scored 26 runs over the weekend to post their first two-game winning streak of the season. The Mammoths lead the USPBL with a .270 team batting average and hit .313 last week, with two home runs and six doubles. Outfielder Sonny Cortez continues to lead the league in batting average (.422), hits (27), runs scored (20), total bases (33) and on-base percentage (.519).
The Utica Unicorns continue to lead the standings at 11-6, two games in front of the Beavers and two-and-a-half in front of the Eastside Diamond Hoppers. The Unicorns' Jimmy Latona took over the home run lead with his fourth dinger last week, and the Beavers' Adam Gauthier smacked two home runs in a single game to tie for the league lead at four.
Ty Hensley, former first round draft pick of the New York Yankees, continues to throw well for the Unicorns. He tossed 4.0 strong innings last week in his second start, allowing one hit and struck out three in a no decision. The Detroit Free Press wrote a story on the right-handed pitcher last week (Read Full Story).
Games will run from Wednesday through Sunday this week, June 19-23. For more information and tickets, please visit USPBL.com or call 248-759-5278.
#YourSummerDestination