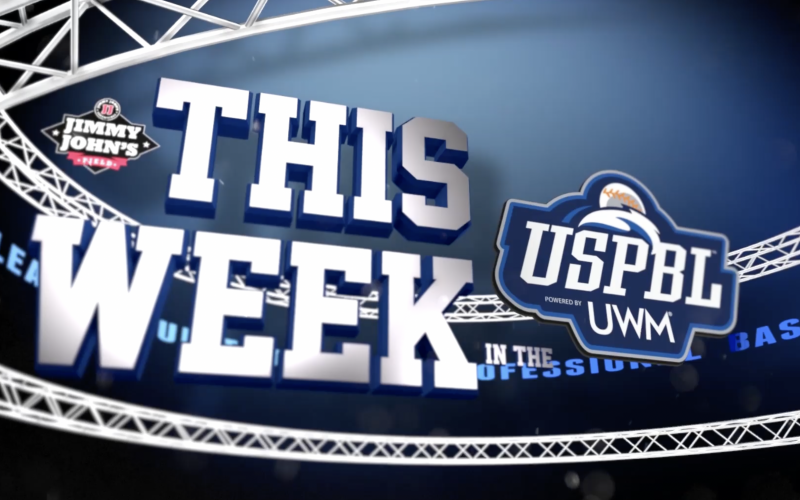 This Week in the USPBL, Ep. 6
August 19th, 2021
ROCHESTER, Mich. – The race for the top seed for the USPBL powered by UWM's Championship Weekend (Sept. 10-13) continues with the Utica Unicorns (19-11) holding a 3.5 game lead over the Eastside Diamond Hoppers (41-13) and 4.4 game lead over the Westside Woolly Mammoths (15-16) with 11 regular season games remaining to highlight This Week in the USPBL.
The Hoppers are 3-2 over their last five games are led by catcher Felix Aberouette at the plate. Aberouette is leading the team with a .556 slugging percentage (second in the league) and RBIs with 15 (Second in the league).
The Beavers' Connor Bagnieski is one of the best hitters in the league and ranks first in the league in batting average (.370). Bagnieski also has a team best slugging percentage and on base percentage, .537 and .515 respectively. RHP Cole Stanton has finished a league best 15 games.
The Woolly Mammoths might have one of the best pitchers on the mound in Greg Loukinen. He leads most USPBL pitching categories including batters stuck out (72), batters struck out looking (24) and wins (5).
Utica Unicorns outfielder Drue Galassi continues to lead the home run race with eight and 26 RBIs.
League Leaders
Upcoming Promotions
Remaining 2021 Schedule
#BringingBackTheFun