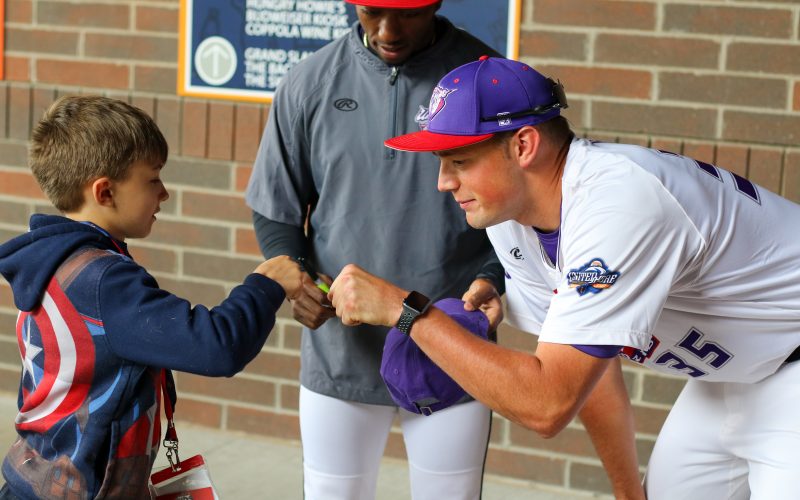 Stockton Takes Perfect Game into 6th Inning, Unicorns Blank Mammoths, 5-0
May 17th, 2019
UTICA, Mich. – Right-handed pitcher Spencer Stockton (1-0) had the sell out crowd on their edge of the seats for most of the game, taking a perfect game into the sixth inning, and finished with a one-hitter, striking out nine, as the Utica Unicorns (4-1) shut out the Westside Woolly Mammoths (0-3), 5-0, on Friday night at Jimmy John's Field.
Stockton has now thrown 12.0 consecutive scoreless innings on the season with 14 strikeouts. Kyle Bonicki and Adrian Guzman each went 2-for-4 and drove in a run for the Unicorns.
After retiring 15 straight batters, the Woolly Mammoths' Ryan Dobson singled to right field to break up the no-hitter as the fans showed their appreciation for a tremendous effort from Stockton.
UPCOMING GAMES:
Saturday, May 18
Eastside Diamond Hoppers vs. Westside Woolly Mammoths, 7:05 p.m. (Gates open at 6 p.m.)
Promotion: WCSX Classic Rock Saturday with Bob Seger Tribute Band, Live Bullet Detroit, All-You-Can-Eat Nachos for $15, Armed Forces Day (FREE tickets for all active and retired military)
Sunday, May 19
Eastside Diamond Hoppers vs. Birmingham Bloomfield Beavers, 1:05 p.m. (Gates open at Noon)
Promotion: Lego Day at the Ballpark, presented by LEGOLAND®, Meet the Beavers, Kids Crafts, Lego figurine giveaway for the first 250 kids, and LEGOLAND® prizes
#YourSummerDestination