Single-Game Suites
Our games are played at Jimmy John's Field, located in Historic Downtown Utica, Michigan. Jimmy John's Field includes 26 suites that can be booked for high-level corporate entertaining. You can opt to buy any of our suites for 75 games in total or, on a limited basis, rent suites for single games.
Each Suite Purchase or Rental Includes:
16 suite tickets (and, on request, an additional 4 complimentary tickets)

Concierge service to help with any request

3 reserved VIP parking passes per game

25% discount valid for use at the team merchandise store

Premium suite catering menu options
Here are summaries of our single game suites available for hire…
FOUNDER'S SUITES:

These seven suites are located on top of the stadium and on the third level of the main grandstand building. Each suite includes the highest-grade Michigan artisan interior finishes and can comfortably accommodate as many as 25 guests, who will be able to take in stunning views of the playing field and surrounding areas.
Best view in the ballpark with indoor and outdoor seating
Highest-grade Michigan artisan interior finishes with large harvest table, interior sectional sofa and drink rail seating
Largest interior space with a large flat screen TV
Air conditioned interior space
Founder's Suite – Single Game (limited quantities): $1,000
DUGOUT SUITES: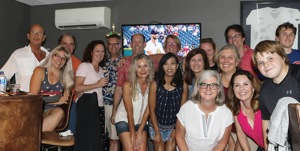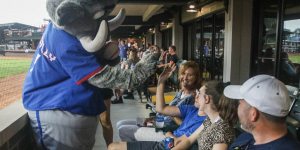 As these five suites are situated straight behind the home plate, the Dugout Suites afford their users glorious views of the playing field. The in-suite amenities, meanwhile, include comfortable padded seats and high-grade Michigan artisan interior finishes. All in all, each Dugout Suite provides a first-class service and allows users to enjoy some of the best sightlines in baseball history.
Closest seats to home plate in all of America
Indoor and outdoor seating
High-grade Michigan artisan interior finishes with harvest table and drink rail seating
Air conditioned interior space with large flat screen TV
Direct access to the VIP AAA Clubhouse (directly adjacent to the suite)
Dugout Suite Price – Single Game (limited quantities): $1,000
PRIVATE PATIO CABANA SUITES: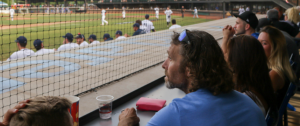 These consist of twelve suites – six on each side of the grandstand – sited above the home and away dugouts. Each of these open-air suites features an appealing ceiling fan and stunning sectional sofa.
Cabana-style experience
Beautiful sectional sofas with monogrammed company-branded pillows
High-back ballpark bar stools and drink rails
Large ceiling fan and a top-of-the-line fire pit in each suite
Cabana Suite Price – Single Game (limited quantities): $800
MANAGER'S BOX SUITES:


These two premium suites, located right inside the home and away team dugouts, are ideal for when you want to provide a high-class – and, more than that, once-in-a-lifetime – entertainment experience for a group of clients or employees. The amenities in each suite include player benches, high top tables and drink rails.
Behind-the-Scenes experience
Hiss-back ballpark bar stools and drink rails with dugout bench seating
Access to warning track to be used between innings
Manager's Suite – Single Game Only: $800
For more information on our single-game suites, call 248-601-2400 ext. 3 or e-mail suites@uspbl.com
Click HERE to download an informational packet on single game suites.