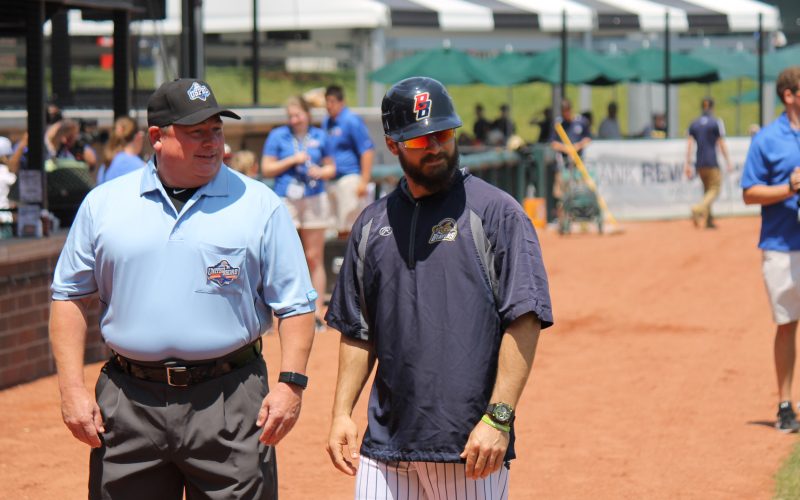 Ray Ortega Joins San Francisco Giants Organization
February 5th, 2019
ROCHESTER, Mich. – The United Shore Professional Baseball League's Ray Ortega has joined the San Francisco Giants organization as a Bullpen Coach of the Sacramento River Cats (AAA), announced by Director of Baseball Operations Justin Orenduff on Tuesday. Ortega spent the last three seasons in the USPBL as a player, Assistant Manager of the Birmingham Bloomfield Beavers, and Catching Coordinator for the league this past year.
"During Ray's time in the USPBL, he progressed from a player to Assistant Manager to Catching Coordinator in 2018," said Orenduff. "His quick progression within the USPBL can be attributed to his passion to teach and develop players while constantly providing innovate ideas and techniques to the USPBL. Off the field, Ray volunteered his time to assist in our Baseball Chapel services as well as helping Sandy Wilton in our host family program. Ray will be missed at the USPBL, but we are excited to see his growth in the Giants organization."
As a player, Ortega hit .298 with three home runs in 40 games played for the Birmingham Bloomfield Beavers. He was part of the Beavers championship run in 2017 and worked with the catchers in the USPBL last season.
"The USPBL has been a godsend in my life," said Ortega. "This could not of happened without my experience in Utica. I am extremely happy to be joining the San Francisco Giants, but at the same time I am very humbled. A small act of faith in me, by Justin Orenduff, has led to a dream come true. After 25 years dreaming of the day a MLB organization would call, it finally came! A special thanks to Andy (Appleby) and the whole USPBL family. These past three years have been of great meaning and value to me. I was able to learn, grow, and evolve."
#USPBL