Oldies Night / Classic Car Night
Wednesday, June 23rd, 2021
7:05 PM
Go back in time with the USPBL!
Game Time: 7:05 pm
Gates Open: 6:00 pm
Westside Woolly Mammoths vs. Eastside Diamond Hoppers
9-inning game
Oldies Wednesdays – Classic Car Night
Remember the classic music, pop culture, and food from the era as we throw it back to the 50's and 60's for Oldies Night at Jimmy John's Field every Wednesday! This week's Oldies Night features a Classic Car Show ON THE FIELD! Come out to the ballpark to walk the warning track before the game and view locally owned classic muscle cars, trucks, and hot rods from across the decades.
Classic Car Show Time:  6:00 pm – 6:45 pm
All fans will have access to the Classic Car Show. There is no special ticket required for access.
$10 Grandstand Tickets for Senior Citizens can be purchased HERE.
Food Specials:
Cheeseburger & Malt Combo – $10
Cheeseburger & Blake's Triple Jam Float Combo – $10
Specialty Jerseys worn by the Westside Woolly Mammoths
Watch your favorite Mammoths player wear these Classic Car Night themed Jerseys! Player and Coach worn jerseys will be available for auction online after the game with profits benefiting Variety the Children's Charity. The auction will start on June 23 at 8 a.m. and bidding will close on June 30 at 5 p.m. EST. Click HERE to visit the auction site.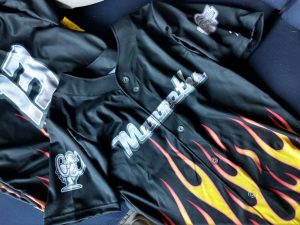 Buy Tickets