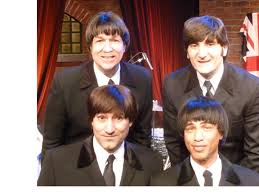 Beatlemania
Thursday, August 31st, 2017
7:05 PM
Celebrate all things Beatles at Jimmy John's Field
Beatlemania is back for the 2017 season!
Come watch the Birmingham Bloomfield Beavers vs Utica Unicorns this Thursday, August 31! Also enjoy music from the Midwest's best Beatles Tribute Band, Topper Most!
Thirsty Thursday Beatles Mania Pub Crawl:
Join us for our last Pub Crawl of the 2017 Season! Starting in the AAA Clubhouse with 1/2 off Apps and Happy Hour prior to first pitch. Enjoy $3 Craft Beers, Complimentary Wings at the bar and more.
The Inning Breakout Below:
o   1st and 2nd Innings – Tito's Vodka Stand – Lemon Drops featuring Titos Vodka – $3
o   3rd and 4th Inning – Sherwood Brewing Stand – 7 oz. Disco Lemonade – $3
–  Brooks Brewing Stand – 7 oz. Blazing Barrel – $3
o   5th & 6th Innings – 1st Base Picnic Bar – Strawberry Fields Frozen Daiquiri's – $3
o   7th Inning – Jack Daniels Bar – Nowhere Manhattans – $3
Join us after in the AAA Clubhouse for Additional Drink Specials, and a Yellow Submarine Banana Fosters Action Station for Dessert featuring Jim Beam. It's also Thirsty Thursday – $1 Bud and Bud Light Drafts!
Get $2 off any grandstand ticket if you wear a Beatles t-shirt!
Other Thursday Night Specials
Chick-fil-A Meal Deal every Thursday
$20 includes grandstand ticket, guaranteed Chick-fil-A sandwich, unlimited soft drinks and water.
*Select the Backstop Dropdown tab on Ticketreturn.com
Buy Tickets