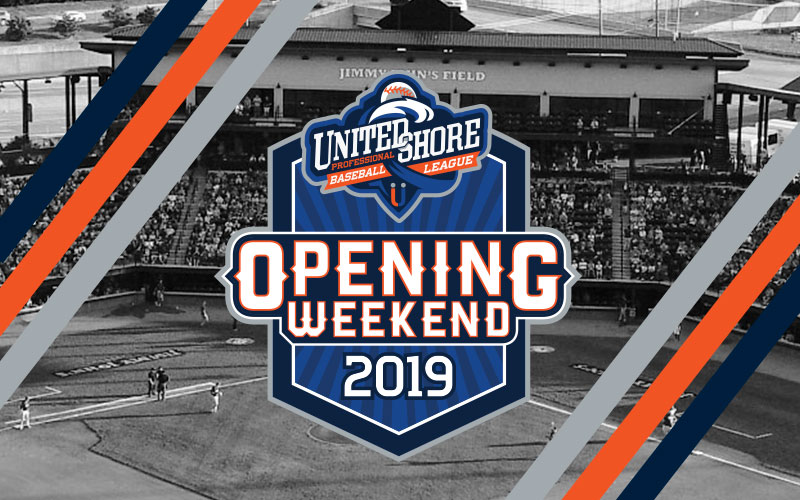 Opening Day is here at Jimmy John's Field in Utica
May 9th, 2019
By Mike Scott
USPBL contributor
Live music, fireworks, schedule magnet giveaway and a championship ring ceremony are all a part of the Opening Day festivities at Jimmy John's Field, presented by OUR Credit Union, when the United Shore Professional Baseball League (USPBL) kicks off its fourth season Friday night at 7:05 p.m.
The Birmingham Bloomfield Beavers will open the 75-game schedule against the Eastside Diamond Hoppers as the Beavers attempt to win their third consecutive league championship, something no other independent professional baseball team has ever done. First baseman Jack Hranec (Ortonville) and outfielder Todd Weiss (Bloomfield Hills) are among the local players on the Beavers roster for 2019, while outfielder Pat Adams (Warren) is playing for his hometown Diamond Hoppers.
Fans are encouraged to arrive when gates open at 6 p.m. as there are an array of activities for the entire family. Free magnet schedules presented by Liberty Tax will handed out as fans enter the gates. Kids will want to visit the Fairytale Entertainment table where they can have their face, hands or arms airbrushed to the design of their choice at no charge.
The American Ages Band will be jamming at the park's Sound Stage in right field as fans begin to arrive. An Air Force KC-135 jet will fly over Jimmy John's Field and Lt Governor Garlin Gilchrist II will throw out the first pitch. The Beavers will then be presented with their 2018 USPBL Championship rings presented by Lucido & Manzella, P.C. and the championship banner will be raised as part of pre-game ceremony
"Every year we take steps to continually improve our ballpark and the gameday experience so we're excited to show our fans what we have planned for this year," said USPBL Commissioner, Founder and CEO Andy Appleby.
Throughout the park fans can enjoy their favorite food and drinks that go far beyond typical ballpark fare. Zetouna's Craft Beer Garden and the Patron Bar will greet visitors all year, while affordable food options include everything from Mexican food and chicken specialties to Philly cheese steaks, pizza, gourmet hot dogs and much more.
Following the game, kids will be invited to run the bases and all in attendance will be treated to the Friday Fireworks Spectacular Show. The Priority Health USPBL Dance Crew and the league's bat dog, JJ, The Field General, are sure to be in midseason form as featured performers all year long.
"Our teams play great baseball as evidence by the fact that 27 players have been signed by major league franchises," Appleby said. "As a result we have Major League scouts watching our players here at the park on a regular basis."
Come for the game and stay for the fun, not just on Opening Day but throughout the entire weekend at Jimmy John's Field where the parking is always free and there's not a bad seat in the house. Blender Detroit will be performing at the Right Field Sound Stage for Saturday's game at 7:05 p.m. between the Utica Unicorns and the Westside Woolly Mammoths. Then spoil mom with the best Mother's Day Brunch in town on Sunday before the 1:05 p.m. matinee between the Hoppers and Unicorns. Tickets starting at $6 are available online at www.uspbl.tempurl.host/tickets or by calling the box office at 248-759-5278.
#YourSummerDestination