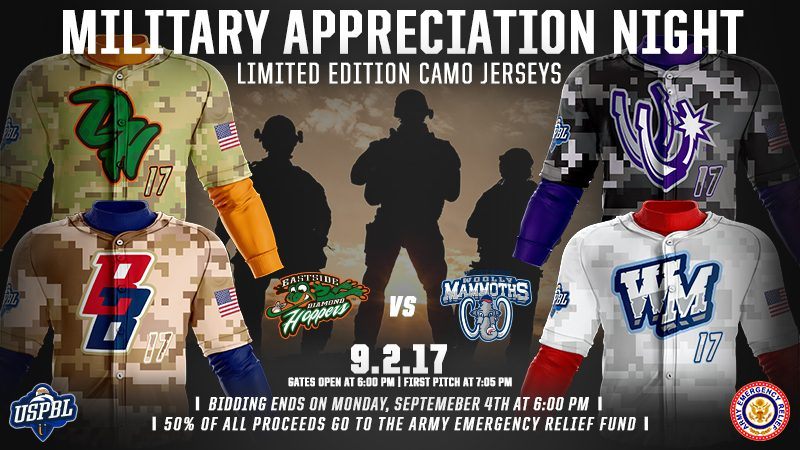 Military Appreciation Day Jersey Auction
August 17th, 2017
On Saturday September 2nd, Jimmy John's Field will host a Military Appreciation Night. Players on the Westside Woolly Mammoths and the Eastside Diamond Hoppers will wear custom camouflage jerseys that night in an effort to support the Army Emergency Relief Fund. We will also be auctioning off Utica Unicorns and Birmingham-Bloomfield Beavers camouflage jerseys following their game on Monday, September 4th. We will be accepting bids until the end of the game on Monday, September 4th at 6:00 pm.
Visit our silent auction here!
About Army Emergency Relief Fund…
"AER is the Army's own emergency financial assistance organization and is dedicated to "Helping the Army Take Care of its Own." AER financial assistance is conducted within the Army structure by mission commanders and garrison commanders through AER Sections located at U.S. Army installations worldwide."
Army Emergency Relief Fund helps soldiers and families everyday with scholarships, grants and loans that are always free of interest and fees.
With the help of our fans, the USPBL is able to contribute to the Army Emergency Relief Fund, and assist our local military families!
*50% of the proceeds will go to the Army Emergency Relief Fund*