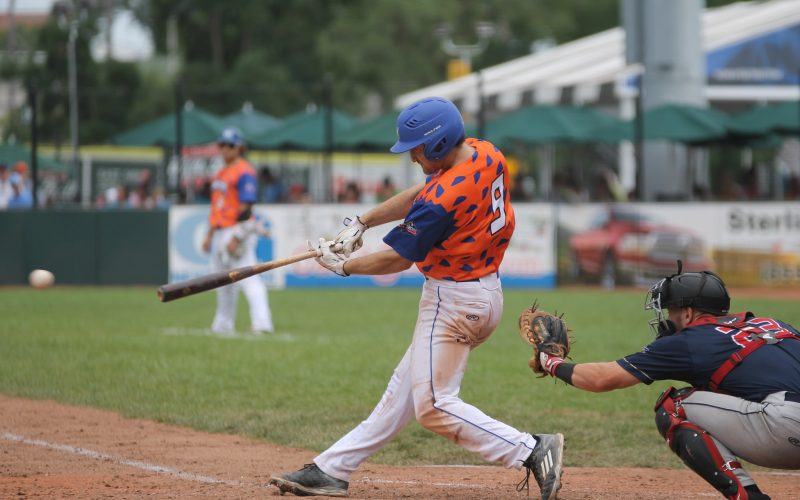 Mammoths Pitch Their Way to 7-1 Win
July 23rd, 2017
By Steve Marowski
Westside Woolly Mammoths 7 vs. Birmingham-Bloomfield Beavers 1
Utica — The Westside Woolly Mammoths used five different pitchers to keep the Birmingham-Bloomfield Beavers' bats quiet in a 7-1 victory.
Travis McQueen threw four shutout innings and Josh Mason followed with two perfect innings of his own. Joel Sharon, Gavin Collins and Corey Kimber threw one inning each in the victory.
"McQueen has been a bullpen guy, but he was awesome today," Mammoths Manager Shane McCatty said. "We haven't been swinging the bats well lately, so that six-run inning felt really good."
The Mammoths opened the scoring in the bottom of the sixth inning on an RBI groundout from Ethan Wiskur.
In the bottom of the seventh, the Mammoths bats came alive for six runs. With the bases loaded, Kent Blackstone hit a two-RBI single to make it 3-0 and Thomas Fuessel scored on a wild pitch to put the Mammoths up 4-0.
Joe Davis got his first hit in the USPBL with a two-RBI single to make it 6-0 and Shaun Wood's RBI single put the Mammoths up 7-0.
The only run for the Beavers came in the bottom of the ninth on an RBI single by Thomas Roulis.
Blackstone was 2-4 with a walk, a run scored and two RBI's, and Alex Abbott was 2-3 with a run scored.
"I was just trying to stay simple, work up the middle and see the ball," said Blackstone.
Upcoming Games
Thursday, July 27, Westside Woolly Mammoths vs. Birmingham-Bloomfield Beavers, 7:05 p.m. (Human Cannon Ball/Parade Company Big Heads Night/Thirsty Thursday)
Friday, July 28, Birmingham-Bloomfield Beavers vs. Eastside Diamond Hoppers, 7:05 p.m. (Fireworks Friday presented by XFINITY/Turn the Park Pink)
Saturday, July 29, Westside Woolly Mammoths vs. Utica Unicorns, 7:05 p.m. (Jake the Diamond Dog presented by Dogtopia/WYCD Country Music Night)
Sunday, July 30, Eastside Diamond Hoppers vs. Utica Unicorns, 1:35 p.m. (Fan Home Run Derby/Harry Potter's Birthday/Jake the Diamond Dog presented by Dogtopia)
Standings
1. Eastside Diamond Hoppers 17-14
2. Utica Unicorns 17-16
3. Birmingham-Bloomfield Beavers 15-17
4. Westside Woolly Mammoths 14-16