Mammoths Advance in USPBL Playoffs, 5-2, over Unicorns
September 7th, 2018
UTICA, Mich. – Right-handed pitcher Josh Mason (9-2) tossed 7.0 strong innings, allowing one earned run and struck out six, while Brandon Cuddy went 3-for-4 with a home run and three RBIs to lead the No. 4 seed Westside Woolly Mammoths (22-27) over the No. 3 seed Utica Unicorns (24-25), 5-2, on Friday night in front of a sell out crowd at Jimmy John's Field.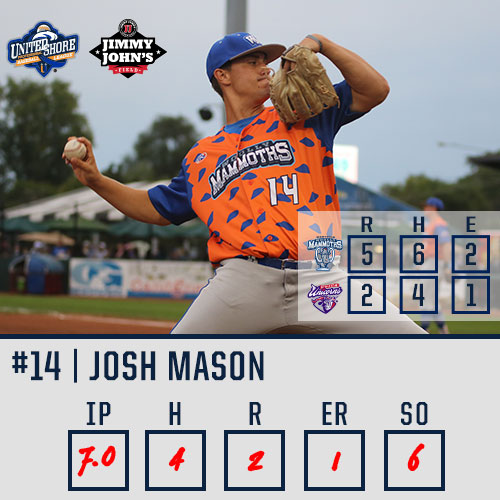 The Woolly Mammoths advance to the semifinals of the USPBL playoffs and will face the No. 2 seed Eastside Diamond Hoppers (24-23) on Saturday at 7:05 p.m. The winner of that game will take on the defending champion Birmingham Bloomfield Beavers (26-21) at 1:05 p.m. on Sunday.
Mason, the 2018 USPBL Pitcher of the Year, allowed just four hits en route to his ninth win of the season setting a new USPBL single-season record. Tyler Pagano finished 2-for-3 and drove in the game's first run.
The game started as a pitcher'd duel between Mason and the Unicorns' RHP AlJordan Johnson. There was no score through five innings until the Mammoths broke through with three unearned runs in the sixth inning. Johnson threw 6.0 innings, allowing three runs, no earned runs and fanned five.
UPCOMING PLAYOFF GAMES

Saturday, September 8 — Semifinals
No. 4 seed Westside Woolly Mammoths (22-27) vs. No. 2 seed Eastside Diamond Hoppers (24-23), 7:05 p.m. (Gates open at 6 p.m.)
Buy Tickets
Promotions: Semifinals presented by OUR Credit Union, 99.5 WYCD Country Music Night with Todd Michael Band – Read More
Sunday, September 9 — Championship
Winner of Mammoths/Hoppers vs. No. 1 seed Birmingham Bloomfield Beavers (26-21), 1:05 p.m. (Gates open at Noon)
Buy Tickets
Promotions: Championship game presented by OUR Credit Union, Scott's Rally Towels giveaway – Read More
#YourSummerDestination