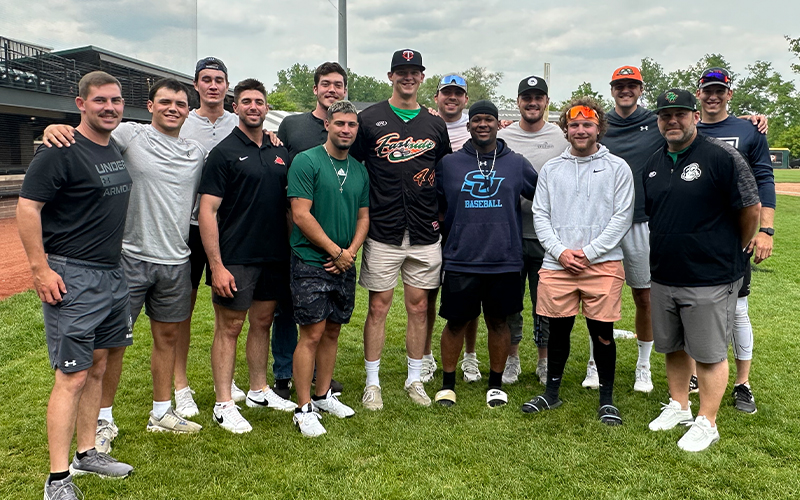 Jake Wosinski Signs with Minnesota Twins
May 23rd, 2023
UTICA, Mich. – Eastside Diamond Hoppers' Jake Wosinski signed with the Minnesota Twins, announced by the United Shore Professional Baseball League on Tuesday. Wosinski, a native of Ada, Mich., played collegiately at Oakland University (2021-22) and becomes the 47th player from the USPBL powered by UWM to sign with a Major League Baseball organization.
"I'm really looking forward to playing at the next level. It's been a dream of mine since I was a little kid," said Jake Wosinski when he heard the news. "I'm honored and blessed. I wouldn't be here without all of the coaches and teammates I've had over the years. My mom is my biggest supporter. She's done everything she can to get me what I need and that's allowed me to be where I am today."
Wosinski quickly became one of the top prospects in the USPBL. The 6-foot-8 inch right-handed pitcher topped out at 95 mph this year on his fastball. In his first start of the 2023 USPBL season, Wosinski tossed 4.0 scoreless innings and struck out seven of the 15 batters he faced.
"We couldn't be more excited for Jake and this next chapter of his career," said Director of Baseball Operations, Shane McCatty. "To deliver the news to a player that a Major League Baseball organization has just signed them is one of the most rewarding experiences there is. We are very proud to send a quality young man like Jake to a great organization like the Minnesota Twins. It is a testament to Jake and the hard work he has done to put himself in the position to be ready when the opportunity presented itself. For us here at the USPBL, we wish Jake all the best!"
At Oakland, Wosinski started a team-high 13 games, going 2-5 with a 5.86 ERA and 1.78 WHIP in 58.1 innings. His 45 strikeouts were second-most on the team.
Wosinski will fly out to Fort Myers, Fla. soon.
About United Shore Professional Baseball League
The United Shore Professional Baseball League (USPBL), now known as the USPBL powered by UWM, is an independent professional baseball league that serves as a developmental league for Major League Baseball. The league plays on the state-of-the-art ballpark named Jimmy John's Field located in downtown Utica, Michigan, which opened in 2016. The USPBL features four teams – the Utica Unicorns, the Eastside Diamond Hoppers, the Birmingham Bloomfield Beavers, and the Westside Woolly Mammoths – that play at Jimmy John's Field. Over the first seven years of operations, the USPBL has had 47 players signed to contracts by Major League Baseball organizations, and has now seen four former players make it all the way up to a Major League roster. Additional teams and ballparks will be added in future years.
#ThePlaceToBeIn2023