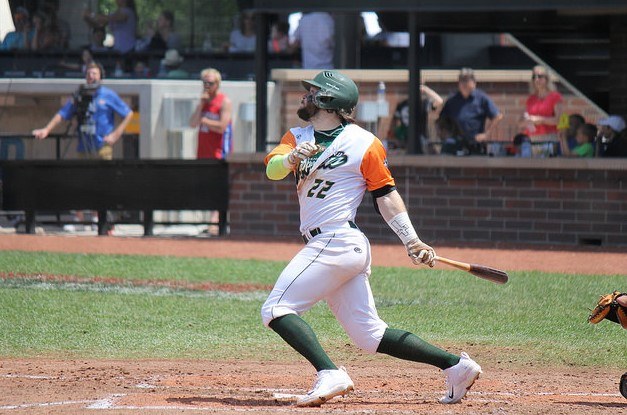 Hoppers End Season on High Note With Late Rally and Win 9-6
September 8th, 2017
By: Tyler Curran
September 8th, 2017
Utica, MI- The Westside Woolly Mammoths and Eastside Diamond Hoppers met in the last game of the regular season Thursday, September 7th at Jimmy John's Field.   Both teams had their offense hitting and intend to have this type of success heading into the playoffs this weekend.
Mammoths jumped on the Hoppers early with a run in the first inning. It didn't take long for the Hoppers to respond as John Menken singled to score Ian Mikowski in their half of the first inning. Mammoth's second baseman Jalin Lawson hit his third home run on the season in the fourth inning, putting the Mammoths ahead 5-2.
The Hoppers had a late surge of power in the bottom of the eighth inning, scoring six runs. They had some help from Casey Chenoweth and Chris Power, both of which have been hurt. For Chris Power, it was his first game since July 28th and finished the game 1-3 with an RBI and two stolen bases.
The eighth inning run support was enough for the Hoppers to fend off the Mammoths in the ninth as Carl Brice came in and shut the door. It was Brice's fifth save on the season. Michael Gomez earned the win after his scoreless eighth inning.
A very successful campaign comes to an end for the USPBL in the second season of the league's existence. As we enter into the playoffs, one team will be crowned a champion after the weekend and both teams that left it out on the field tonight have their shot. The two teams could potentially meet again in the second round of the playoffs if the Mammoths advance. The Hoppers have a bye to the second round, and the team that gets by them will be greeted by the redemption seeking Beavers.
Final score of the game was 9-6 as the Eastside Diamond Hoppers finish (28-24) and Westside Woolly Mammoths finish (22-30).