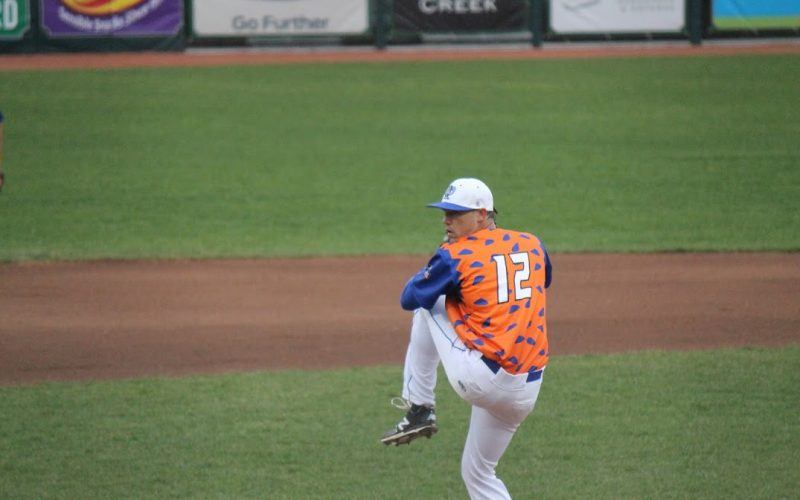 Holcombe Leads Mammoths Past Unicorns in 1-0 Win
May 19th, 2017
By Steve Marowski
Westside Woolly Mammoths 1 vs. Utica Unicorns 0
Utica — It was a pitchers duel between the Utica Unicorns and Westside Woolly Mammoths on Friday, May 19, but the Mammoths were able to score one run in the first inning to defeat the Unicorns, 1-0.
Jeremy Holcombe started on the mound for the Mammoths and was superb. In seven innings, Holcombe gave up just three hits, allowed one walk and struck out four.
"I did the best I could trying to command the zone," Holcombe said. "I try to get the first strike on every batter and pound the zone."
Holcombe is now 2-0 on the young season with a 0.00 ERA and a 0.54 WHIP.
The Mammoths were able to score the only run of the game on a double to right field by third baseman Riley Palmer. He was 2-4 with two doubles on the night.
Seth Brenner started on the mound for the Unicorns and pitched well. Through four innings, Brenner gave up one run and struck out three.
Unicorns relief pitchers Brandon Nagem and Sean Gustin combined to throw four shutout innings.
"We left way too many guys on base and guys in scoring position," Mammoths Manager Shane McCatty said. "A win is a win, so I guess I'll take it."
The Unicorns will be back in action on Saturday, May 20, when they take on the Eastside Diamond Hoppers.
Upcoming Games
Saturday, May 20, Utica Unicorns vs. Eastside Diamond Hoppers, 7:05 p.m. (WCSX Classic Rock Saturday/Teacher Appreciation Night)
Sunday, May 21, Birmingham-Bloomfield Beavers vs. Westside Woolly Mammoths, 1:35 p.m. (Teenage Mutant Ninja Turtles)