Jeremiah Hergott
Senior Vice President, Client Services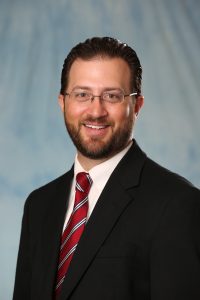 Jeremiah Hergott joined the USPBL as the Director of Client Services in February 2018 and was promoted to Vice President of Client Services on Oct. 2, 2018, before being named Senior Vice President for Client Services on Oct. 20, 2020. He oversees all sponsorship fulfillment – building strong relationships with all USPBL partners – while also producing all of the broadcasts on the USPBL Network.
Hergott played a vital role in 2020 by launching the USPBL Network to broadcast games on Facebook and YouTube, which proved a valuable giveback to the league's corporate sponsors, who stuck with the league during the pandemic. Overall, the broadcast reached more that 5.4 million people, with nearly 1 million viewers (16,793 per game), while also increasing Facebook followers and YouTube subscribers by nearly 2,000.
Before joining the USPBL, Hergott spent six years working intercollegiate athletics at the University of Detroit Mercy, responsible for brand awareness, marketing, promotions and corporate sponsorships. He was a member of the senior staff and launched the "City Basketball Series" in 2016 to help raise nearly $18,000 dollars for Detroit Public Schools.
In 2014, Hergott was instrumental in developing the Metro Series to help brand the rivalry with Oakland University. The Metro Series has increased brand awareness and media interest in the competitions between Detroit Mercy and Oakland in men's and women's basketball, men's and women's cross country/track and field, men's and women's golf, men's and women's soccer, softball and women's tennis.
Prior to working at Detroit Mercy, Hergott served as the Director of Athletic Communications at Colgate University and spent at total of four years working in the athletic department. Before Colgate, Hergott spent one year working at the University of Michigan in the athletic communications office.
While at U-M, Hergott developed media strategies for 23-time Olympic gold medalist Michael Phelps and four-time gold medal winner Peter Vanderkaay. He also worked closely with United States National Team Assistant Swimming Coach Bob Bowman.
Hergott has been recognized for his work nationally earning Swimming World Sports Information Director of the Year (Honorable Mention), along with two CoSIDA Publications awards for the 2007 women's cross country media guide. The publication earned the honor for the nation's Best Cover and was voted as the country's second-best media guide overall.
He earned a master's degree in sport and athletic administration from Gonzaga University and has a bachelor's degree in business and public relations from Ferris State. Hergott also has a degree in residential design from Washtenaw Community College.
A native of Ann Arbor, Mich., Hergott is married to Jennifer and they reside in Livonia.
Email Address: jhergott@uspbl.com
Hometown: Ann Arbor
Walk-Up Song: What a Fool Believes