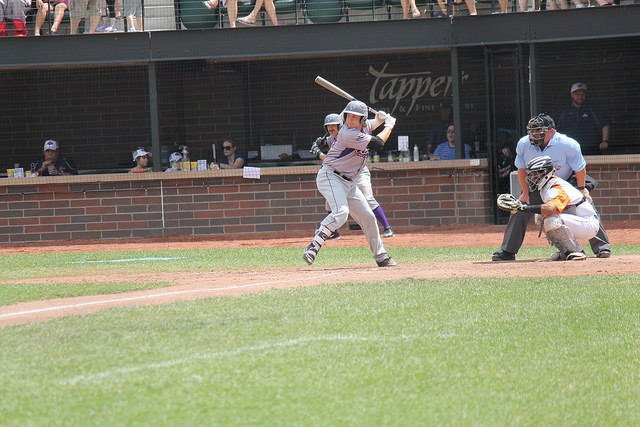 Five-Run Fifth Helps Unicorns to 8-4 Victory
May 29th, 2017
By Steve Marowski
Utica Unicorns 8 vs. Eastside Diamond Hoppers 4
Utica — Nicco Lollio was 1-4 with a walk, a grand slam and four RBI's, and Taylor Grzelakowski was 2-4 with a walk and two RBI's in the Utica Unicorns 8-4 victory over the Eastside Diamond Hoppers.
"We're built for power," Unicorns Manager Jim Essian said. "We were able to elevate a couple balls and put them over the fence."
Grzelakowski led off the game with a solo home run to right field, and in the second inning, he hit an RBI double to increase the Unicorns lead to 2-0.
The Unicorns exploded for five runs in the fifth inning, and four of those runs came on Lollio's grand slam. Brandon Larkin-Guilfoyle had an RBI single in the inning as well, and he finished the game 2-4 with a walk and an RBI.
"I was definitely sitting fastball," said Lollio when asked about his grand slam at-bat. "He threw it up and in, and I was able to run into one."
In the sixth inning, Diamond Hoppers second baseman Kam Stewart hit a two-run home run to left-center field. Later in the same inning, Ricky Castro was hit by a pitch, and John Kraft came around to score and make it a 7-4 ballgame.
The scoring would end in the seventh inning after Jovan Hernandez hit a sacrifice fly to give the Unicorns an 8-4 lead.
Sam Burton started on the mound for the Unicorns and threw five solid innings. He scattered four hits and allowed just one run while striking out five.
"I think we're building some momentum, and I think we're starting to get to know each other a little bit better," Essian said.
Upcoming Games
Thursday, June 1, Birmingham-Bloomfield Beavers vs. Westside Woolly Mammoths, 7:05 p.m. (Jimmy Buffett Night/Detroit Mercy Night/Thirsty Thursday)
Friday, June 2, Eastside Diamond Hoppers vs. Birmingham-Bloomfield Beavers, 7:05 p.m. (Fireworks Friday/Meet the Beavers)
Saturday, June 3, Utica Unicorns vs. Westside Woolly Mammoths, 7:05 p.m. (World Famous ZOOperstars!/WCSX Classic Rock Saturday)
Sunday, June 4, Utica Unicorns vs. Eastside Diamond Hoppers, 1:35 p.m. (World Famous ZOOperstars!)
Standings
1. Utica Unicorns 6-4
2. Eastside Diamond Hoppers 6-4
3. Westside Woolly Mammoths 4-5
4. Birmingham-Bloomfield Beavers 3-6