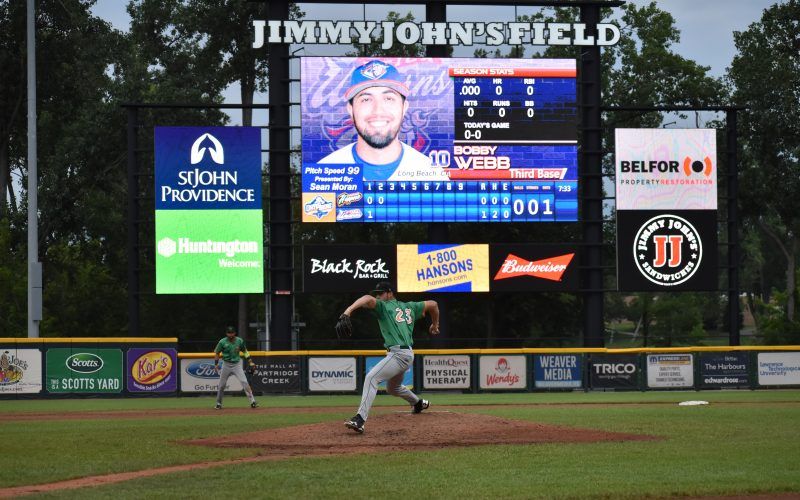 Diamond Hoppers Rally for a 14-5 Victory
August 19th, 2017
By Casey O'Dowd
Eastside Diamond Hoppers 14 vs. Utica Unicorns 5
Utica – A late game rally and a pitching meltdown by the Utica Unicorns helped boost the Eastside diamond hoppers to a 14-5 victory. Diamond Hoppers Pitcher, Tanner Kiest, also set a new USPBL pitching speed record at 99 mph.
Kiest opened the game with a shaky first inning, allowing one run to score. However, he proved to be mentally tough and once settled in on the mound, he struck out the next three players to end the first inning.
As the game progressed, Kiest's arm loosened up, topping out at a blistering 99 mph, setting a new USPBL pitching speed record.
Unicorn batters struggled heavily to make any sort of contact. By the end of the 6th inning, Kiest had tallied 12 strikeouts.
The Hoppers offense came later in the game with full force. With the Hoppers down 2-4 in the eighth, John Menken stepped up to bat. Unicorns pitcher Cody Brown pitched to Menken, who shot it right back up the middle for a 2 RBI single.
The Hoppers refused to let up. Hit after hit, the team chewed up any relief pitcher the Unicorns put on the mound. When the third out finally capped the eighth, the damage was done. 12 runners reached home plate to give the Hoppers a 14-5 lead and ultimately a victory.
All season long, the fight for the Eastern division has been neck and neck. Tonight's win for the Hoppers may be the deciding factor as the season approaches an end.