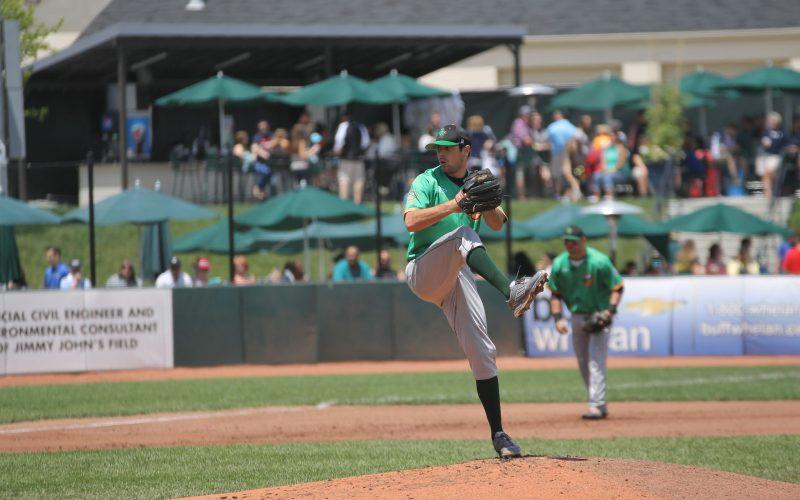 Diamond Hoppers Get Great Pitching, Defeat Unicorns 4-1
June 25th, 2017
By Steve Marowski
Eastside Diamond Hoppers 4 vs. Utica Unicorns 1
Utica — The Eastside Diamond Hoppers held the Utica Unicorns to just one run and two hits in their 4-1 victory. Starting pitcher Devin Alexander threw five scoreless innings, gave up just one hit and had four strikeouts.
"[Cyle Figueroa] knew how to work the hitters in terms of pitch speeds," Alexander said about his catcher. "I really just had to throw what he was calling and it was awesome that we were on the same page."
The Diamond Hoppers opened the scoring in the top of the third inning with an RBI single from Ricky Castro.
With the single, Castro is now tied for the longest hitting streak in USPBL history at 13.
In the bottom of the sixth inning, the Unicorns tied the game at one with a solo home run from Taylor Grzelakowski.
The Diamond Hoppers took a 2-1 lead in the top of the seventh on an RBI single by John Kraft. Jeremy Scott's two-RBI single in the top of the ninth made it a 4-1 ballgame.
"This was a team win," Diamond Hoppers Manager Paul Noce said. "Our starting pitcher did a great job and the bullpen did what they had to do."
Randy Dobnak made his first start for the Unicorns and threw five innings, allowed just two hits, one run and tallied four strikeouts.
Upcoming Games
Thursday, June 29, Eastside Diamond Hoppers vs. Birmingham-Bloomfield Beavers, 7:05 p.m. (Zombie Night/Thirsty Thursday)
Friday, June 30, Utica Unicorns vs. Eastside Diamond Hoppers, 7:05 p.m. (Fireworks Friday presented by Metro PCS/Social Media Night)
Saturday, July 1, Utica Unicorns vs. Westside Woolly Mammoths, 7:05 p.m. (WCSX Classic Rock Saturday)
Sunday, July 2, Birmingham-Bloomfield Beavers vs. Westside Woolly Mammoths, 1:35 p.m. (Minions and Kids Candy Hunt)
Monday, July 3, Birmingham-Bloomfield Beavers vs. Utica Unicorns, 1:35 p.m. (Independence Celebration/Star Spangled T-Shirt Giveaway/Hospitality Worker Appreciation)
Standings
1. Eastside Diamond Hoppers 12-7
2. Utica Unicorns 11-9
3. Westside Woolly Mammoths 10-10
4. Birmingham-Bloomfield Beavers 6-13