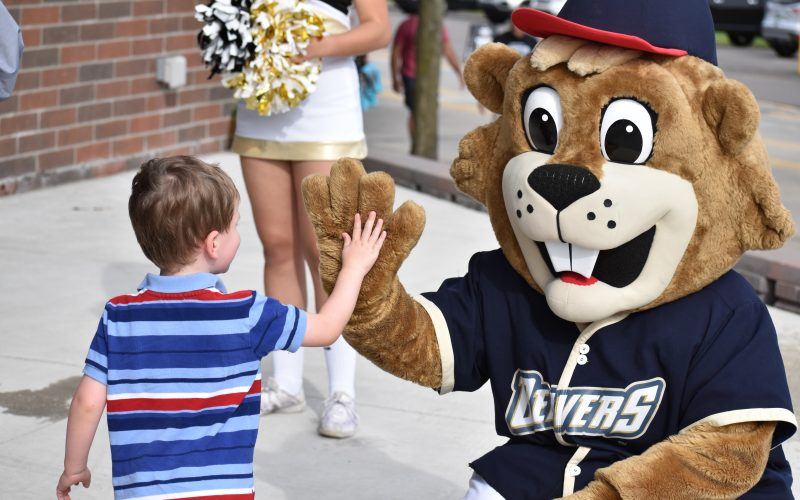 Beavers Seal Back to Back Wins Thursday 7/27 and Friday 7/28
July 29th, 2017
The Birmingham-Bloomfield Beavers celebrate their back-to-back wins this weekend with a jump in the USPBL standings, climbing to first-place in the West Division and now sitting just a half-game behind the league leader. 
The Beavers have won five of their last six games, dating back to July 13. The team also honored former pitcher Kevin Marnon of Shelby Township, who was signed to the Minnesota Twins organization Thursday. 
Marnon is the third player to be signed to an MLB affiliate this season and the 15th overall since the league debut last year. The Beavers return August 3rd to race their division rival, the Westside Woolly Mammoths. 
Thursday, July 28: Birmingham Bloomfield-Beavers 4, Westside Woolly Mammoths 2
Beavers shortstop Dan Kennon's bloop single into right field brought home first baseman Nic Wilson in the bottom half of the sixth inning tying the scored at two.  
Outfielder Gerard Hernandez would score the go-ahead run that same inning off of Westside pitcher Corey Kimber. Five Beavers players recorded at one least one hit, including infielder Thomas Roulis, who went 2-for-4 with one run and no strikeouts. 
Pitcher Randy Wynne picked up the win for Birmingham-Bloomfield, throwing seven straight innings, giving up seven hits, two earned runs and three walks. His ERA is now 4.03 this season. Seth Brenner and Trevor Jaunich closed out the game, both pitching one full inning and facing a total of eight batters. 
Only two batters from the Westside lineup failed to get a hit as first baseman Thomas Fuesel saw his batting average climb to .308 after going 2-for-4. Ethan Wiskur and Riley Palmer each scored a run in the top half of the first inning. 
Friday, July 29: Birmingham Bloomfield Beavers 11, Eastside Diamond Hoppers 8
The Beavers sat comfortably heading into the ninth inning with an eight-run advantage over the Diamond Hoppers, but only to see the margin fall to just three before picking up the win. 
The Beavers scored the first five runs of the game through five innings. Outfielders Brandon Rawe and Gerard Hernandez combined for six RBIs and three hits, while Thomas Roulis went 2-for-3 with a walk. 
Eastside second baseman Kam Stewart ended the offensive woes in the bottom half of the fifth when he delivered on two RBIs. The Diamond Hoppers trailed by two heading into the seventh inning after catcher Brandon Oliver recorded a sacrifice fly, before the Beavers tacked on three more runs their next time at bat. 
Each team used a total of four pitchers, with Birminghan-Bloomfield right-hander Jake Welsh throwing six innings, recording six strikeouts and zero earned runs. Eastside starter Torey Deshazier left the mound after three inning, facing 19 batters and allowing two earned runs.