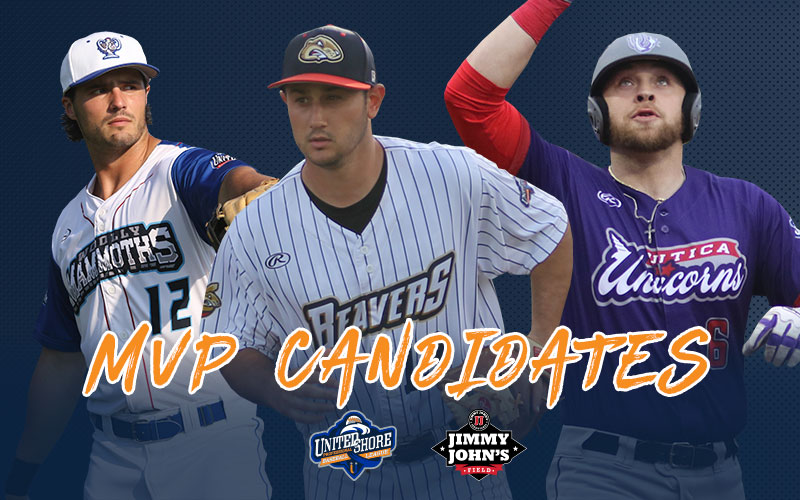 All-USPBL Team, Player Award Candidates Announced
ROCHESTER, Mich. – The United Shore Professional Baseball League announced the All-USPBL team and candidates for player awards on Wednesday. The player awards will be released before Friday night's first playoff game between the No. 3 seed Utica Unicorns and No. 4 seed Westside Woolly Mammoths in a pregame recognition at Jimmy John's Field.
The 2018 All-USPBL Team was voted on by the league coaches and baseball operations personnel. Birmingham Bloomfield Beavers Thomas Roulis won the batting title for the second straight year (.311), while Dan Ward, the 2018 Rawlings Home Run Derby Champion, won the home run title with 12 for the Utica Unicorns.
2018 All-USPBL Team
Jack Hranec, 1B (Birmingham Bloomfield Beavers)
Sebastian Diaz, 2B (Eastside Diamond Hoppers)
Thomas Roulis, SS (Birmingham Bloomfield Beavers)
Dan Ward, 3B (Utica Unicorns)
Ethan Wiskur, OF (Westside Woolly Mammoths)
Drew Kitson, OF (Westside Woolly Mammoths)
Kody Ruedisili, OF (Eastside Diamond Hoppers)
Jackson Smith, C (Westside Woolly Mammoths)
Josh Mason, Starting Pitcher (Westside Woolly Mammoths)
Cody Brown, Starting Pitcher (Formerly of Utica Unicorns / Seattle Mariners)
Michael Scimanico, Relief Pitcher (Utica Unicorns)
Brian Heldman, Relief Pitcher (Birmingham Bloomfield Beavers)
Jimmy Latona, UT (Utica Unicorns)
Tyler Pagano, UT (Westside Woolly Mammoths)
Most Valuable Player
Thomas Roulis, SS, Birmingham Bloomfield Beavers
Won the batting title for the second straight year (.313)
Led the league in strikeout percentage at 12% (20 in 165 at bats)
Finished fourth in the league with 29 runs scored
Dan Ward, 3B, Utica Unicorns
Led the league with 12 home runs
Finished third in the league with .293 batting average
Ranked fourth with 32 runs batted in
Ethan Wiskur, OF, Westside Woolly Mammoths
Led the league with 34 runs batted in
Finished second with a .304 batting average
Ranked second in the USPBL with 10 home runs
Pitcher of the Year
Cody Brown, RHP, Formerly of Utica Unicorns / Signed with Seattle Mariners
Signed a contract with the Seattle Mariners in mid-July
Led all starting pitchers with a 2.25 ERA
Struck out 65 batters in 56.0 innings pitched
Brian Heldman, RHP, Birmingham Bloomfield Beavers
Posted the league's second-best ERA at 2.15
Earned four saves, No. 3 in the USPBL
Fanned 37 in 37.2 innings pitched
Josh Mason, RHP, Westside Woolly Mammoths
Led the league with eight wins, finishing 8-2
Finished first in the league with 78 strikeouts and 94 innings pitched
Ranked second among starters with a 2.87 earned run average
Michael Scimanico, LHP, Utica Unicorns
Led the league in strikeout per nine innings ratio at 18.4
Posted a league-best seven saves
Led all pitchers with a 2.07 ERA
Defensive Player of the Year
Drew Kitson, OF, Westside Woolly Mammoths
Had a league-best five outfield assists
Tallied just one error in the outfield
Thomas Roulis, SS, Birmingham Bloomfield Beavers
Tallied a league-best .973 fielding percentage on the infield
In 348.2 innings played, committed just four errors and had 86 assists
Kody Ruedisili, OF, Eastside Diamond Hoppers
Recorded a league-best 96 putouts in the outfield
Tallied two outfield assists and committed just two errors
Kevin Whatley, SS, Eastside Diamond Hoppers
Led the USPBL with an astounding 130 assists
Started in all 48 games at shortstop
Most Improved Player
Brian Heldman, RHP, Birmingham Bloomfield Beavers
Improved his ERA from 9.00 last season to 2.15 this year
Finished second in the league in ERA
Kyle Olliges, RHP, Utica Unicorns
Tied the league lead with eight wins on the mound, finishing 8-5
Moved to the bullpen midway through the season and became one of the better mid-relief pitchers in the USPBL
Michael Scimanico, LHP, Utica Unicorns
Struck out 71 in just 34.2 innings pitched
Posted a league-best seven saves
Sportsmanship Award
Cameron Coons, 1B, Eastside Diamond Hoppers
Played in 32 games, mostly at first base
Batted .556 over the final two weeks of the season with a home run and four RBIs
Jackson Smith, C/UT, Westside Woolly Mammoths
Set a new league record by playing all nine positions in the regular-season finale, striking out both batters faced on the mound
Hit .271 with four home runs
Carter Grote, OF, Utica Unicorns
#YourSummerDestination