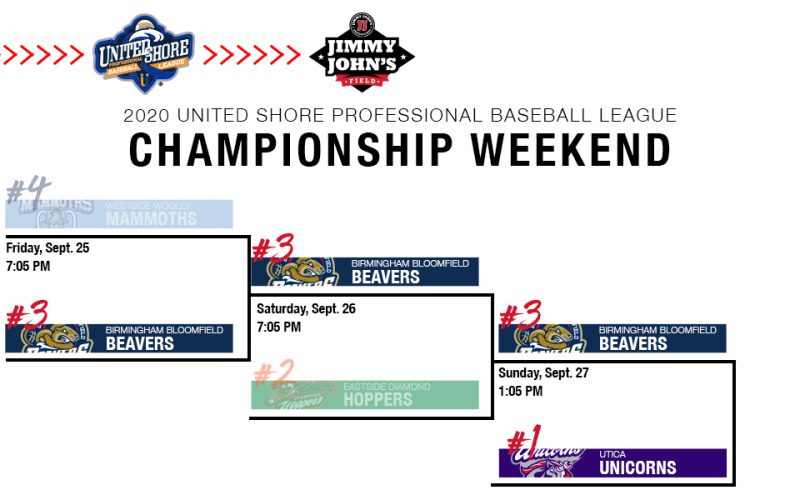 USPBL Playoff Push Standings
September 3rd, 2020
CHAMPIONSHIP WEEKEND:
Game One, Friday, September 25 at 7:05 PM: #4 Westside Woolly Mammoths vs #3 Birmingham Bloomfield Beavers
Game Two, Saturday, September 26 at 7:05 PM: #3 Birmingham Bloomfield Beavers vs #2 Eastside Diamond Hoppers
Game Three, Sunday, September 27 at 1:05 PM: #3 Birmingham Bloomfield Beavers vs #1 Utica Unicorns
POINT SYSTEM:
Win: 3 points
Tie: 1 point
Loss: 0 points
All four teams will play eight games (7 inning games) in September. The first 5 inning game in Saturday doubleheaders will serve as developmental games and will not count towards the 8 games. In case of a tie, the 5 inning games will serve as a tie breaker. The second tie breaker will be runs scored. Because the Unicorns won the regular season, they will start September will 3 points and will hold the tie breaker over every team.
Playoff format will remain the same. Game one (Friday, Sept. 25) is fourth place against third place. Game two (Saturday, Sept. 26) is the winner of game one and the second place team. Championship game (Sunday, Sept. 27) will be the winner of game two and the first place team.
CURRENT STANDINGS:
Team
Points
W
L
T
Runs Scored
Utica Unicorns
18
5
3
0
31
Eastside Diamond Hoppers
18
6
2
0
28
Birmingham Bloomfield Beavers
9
3
5
0
18
Westside Woolly Mammoths
6
2
5
0
23
Tiebreakers as of 9/20/2020:
Unicorns hold tiebreaker over everyone (from winning regular season)
Hoppers hold tiebreaker over Beavers (5-inning games, 3-0)
Mammoths hold tiebreaker over Beavers (runs scored, 23-18)
Hoppers hold tiebreaker over Mammoths (runs scored, 28-23)