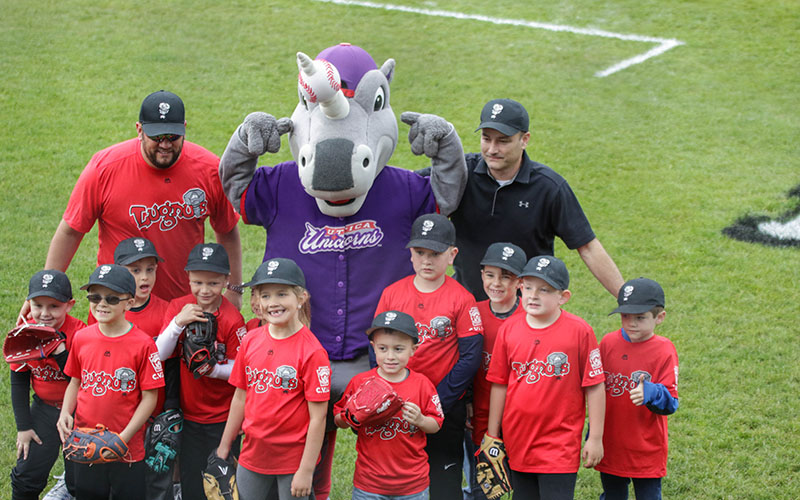 Goodson Dominates as Unicorns Beat Beavers, 4-0
May 24th, 2019
UTICA, Mich. – Right-handed pitcher Donald Goodson (1-0) tossed 7.0 scoreless innings, scattering three hits and struck out four, while Adrian Guzman 3-for-4 with a home run and two runs batted in to lead the Utica Unicorns (6-1) to a 4-0 win over the Birmingham Bloomfield Beavers (2-4) on Friday night at Jimmy John's Field.
Coleman Poje helped the cause with a 2-for-4 performance, smacking a double and driving in a run, while Collin Ridout finished 2-for-4 for Utica.
Left-handed pitcher Gerry Salisbury (0-2) pitched well, allowing two earned runs and struck out four in 6.0 innings of work. The Beavers' TJ Ward led the way at the plate, going 2-for-4.
RHP Ty Hensley earned his first save of the season, tossing the final 2.0 innings, striking out three.
UPCOMING GAMES/PROMOTIONS
Saturday, May 25
Unicorns vs. Diamond Hoppers, 7:05 p.m. (Gates at 6 p.m.)
Promotions: WCSX Classic Rock Saturday with Planet of Fun, $15 All-You-Can-Eat Nachos
Sunday, May 26
Diamond Hoppers vs. Woolly Mammoths, 1:05 p.m. (Gates open at Noon)
Promotions: Bark in the Park, bring your favorite dog to the ballpark, presented by Happy Tails Learning Center for Dogs
Monday, May 27
Beavers vs. Woolly Mammoths, 1:05 p.m. (Gates open at Noon)
Promotions: Memorial Day, All Veterans, Active and Retired Military FREE, USPBL Hat Giveaway, $1 Hot Dogs, $1 Chips, $1 Soft Drinks (12 ozs)
#YourSummerDestination #UnicornsUnite