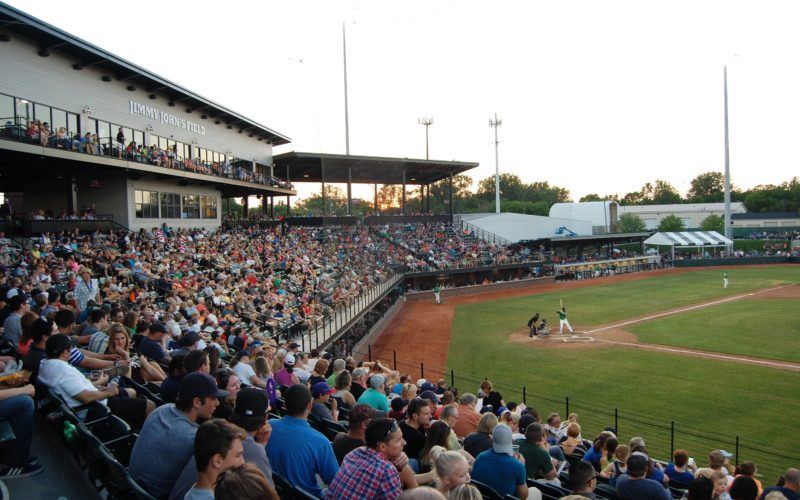 USPBL 9/5 Update: Beavers leap back into first place with win over Hoppers
By Adam Rickert
Eastside Diamond Hoppers 2 AT Birmingham-Bloomfield Beavers 5
UTICA — The Birmingham-Bloomfield Beavers used a four-run second inning to top the Eastside Diamond Hoppers, 5-2, on a special Labor Day edition of USPBL baseball.
After the Diamond Hoppers scored a run in each of the first two innings, Birmingham-Bloomfield slugged its way into the lead in the bottom of the second.
Shortstop DJ Martinez got the Beavers on the board with an RBI single that scored Kevin Wirth.
Two batters later, catcher Ray Ortega muscled a Jeff Conley pitch over the left field wall with two men on, giving his Beavers a 4-2 advantage.
The Beavers added an insurance run in the bottom of the seventh thanks to a monster home run by first baseman Nic Wilson.
"I was sitting on a fastball," said Wilson. "Conley is a very good pitcher, but I picked up a pattern and I got what I was looking for, so it worked out for me."
After going hitless in three straight games, an extremely uncommon occurrence, Wilson has now homered in consecutive matches. He leads the USPBL with 16 big flies.
"Once you put the swing that you want on a pitch, you can't control the results after that," said Wilson when asked about his mini-slump. "At no point did I feel bad, the results just looked bad."
Randy Wynne was tremendous on the mound for the Beavers. He surrendered just one earned run in seven full innings, striking out five, walking one and giving up seven hits.
The victory moves the Beavers to 25-22 on the year, a half game ahead of the 25-23 Diamond Hoppers at the top of the USPBL standings.
With the Hoppers holding the head-to-head tiebreaker, the Beavers will have to win Thursday's USPBL regular season finale against the Utica Unicorns to clinch first place and a playoff bye.
"For the entire year, we've been looking at it game-by-game," said Wilson. "It's only fitting that it comes down to the last game.
"All we asked for at the beginning of the year was a chance to win at the end of the year, and we've got that."
Standings (as of September 5, 2016)
1. Birmingham-Bloomfield Beavers 25-22
2. Eastside Diamond Hoppers 25-23
3. Utica Unicorns 21-26
Upcoming Games
Birmingham-Bloomfield Beavers at Utica Unicorns, Thursday, September 8, 7:25pm (Fan Appreciation Night)
All Star Game, Friday, September 9, 7:05pm (Friday Fireworks)
Playoff Game, Saturday, September 10, 7:25pm (Zooperstars)
Championship Game, Sunday, September 11, 2pm (Zooperstars)