Group Outings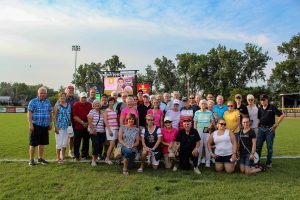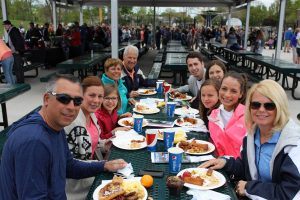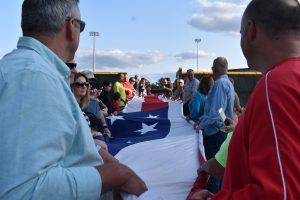 Whether you want to make a great impression with prospective customers, valued business partners, or your own team, an outing at Jimmy John's Field will help you knock it out of the park. Let us create a custom package that is perfect for your group!
ALL-INCLUSIVE PARTY PATIO AREAS
An all-you-can-eat buffet begins one hour before the game and will run 30 minutes after the first pitch. All buffets include unlimited Pepsi soft drinks and water, and 2 drink tickets per person for Budweiser, Bud Light or wine.
New for the 2018 season: Our buffet will feature Premium Dearborn brand hot dogs, slow-roasted homemade BBQ pulled pork, grilled chicken breast, fresh pasta salad, seasonal fruit salad, Better Made potato chips, and assorted cookies.
GROUP BENEFITS AND EXPERIENCES INCLUDE:
• Group photo on the field
• Welcome message on the main scoreboard
• Coach chalk talk and player autographs
• Participate in giant flag presentation during the National Anthem
• Meet and greet with the team mascots
• Kids Run The Bases after every game
$35 PER PERSON (20 PERSON MIN) ♦ $32 PER PERSON (50 PERSON MIN) ♦ $29 PER PERSON (100 PERSON MIN)
UPGRADED MEAL OPTION: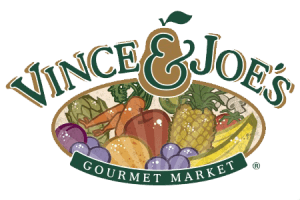 All You Can Eat Buffet
Vince & Joe's Gourmet Market will prepare your premium buffet featuring chicken piccata, penne with marinara, green beans with julienned peppers, Vince & Joe's Signature Salad, fruit salad, brownie and bar platter, unlimited Pepsi soft drinks and water, and 2 drink tickets per person for Budweiser, Bud Light or wine.
$38 per person ♦ 20 person minimum
Birthday Pizza Party
Host your child's birthday party at Jimmy John's Field! We offer a unique experience including a birthday welcome on the scoreboard, participation in our pre-game high-five tunnel, and a visit by our team mascots. Your party will include Hungry Howie's pizza for your group in our Party Patio area, unlimited Pepsi brand soft drinks and water, along with reserved seats in the grandstands to watch the game!
$25 per person ♦ 10 person minimum
Cupcakes
Let us help you celebrate your event with assorted cupcakes from Vince & Joe's.
Contact us for pricing and to reserve your date.
Click HERE for downloadable version of Group Outing information.
FOR MORE INFORMATION ON GROUPS, CALL 248.601.2400 EXT.4 OR EMAIL GROUPS@USPBL.COM