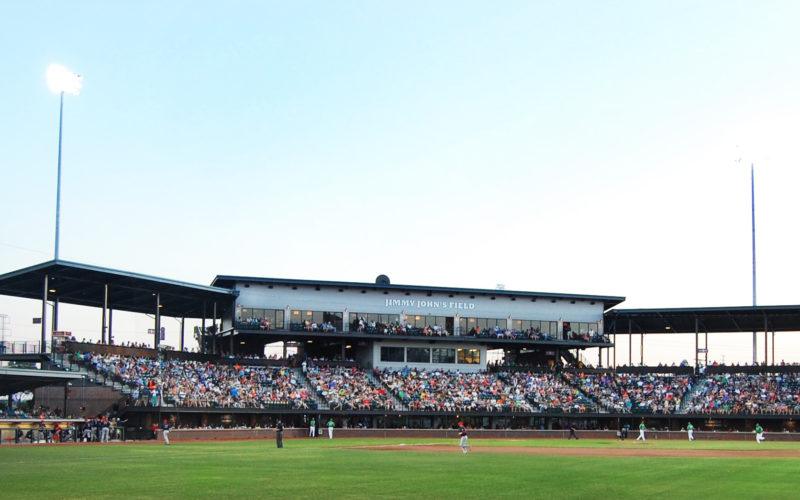 What They Are Saying About USPBL and Jimmy John's Field
"I want to compliment the USPBL and General Sports and Entertainment for a first rate product thus far. I've been to four games and look forward to many more. The stadium and facilities are wonderful; the on-site staff are professional, courteous, and engaging; and the quality of the game is better than I had anticipated. Tonight's out-of-town guest, my family, and several friends and coworkers have all been similarly impressed and spoken well of their experiences. Keep up the great work – your passion for this league is evident in the quality of the product."
Jay L.
"I just want thank the staff at Jimmy Johns Park for the quick and attentive response for my wife at the game on Sunday 6-19-2016. She was overcome by the heat and EMS took her to the Unicorns locker room where she was cooled down and taken care of. A special thanks to Donny Murray #21 of the Unicorns who calmed our grandson and gave him an autographed ball, a class act."

Terry and Theresa A.
"Just wanted to touch base to let you know that we're getting rave reviews on the games and the suite. USPBL has been phenomenal through the whole process – very attentive. Our wait staff has been great – very personable and attentive but not intrusive. You've built a great venue with a great team! Keep up the great work!"
Kelly G.
"Mr. Appleby, we met at the ballpark today but I wanted to once again tell you of the great experience we had at Jimmy John's Field.  My mother has Parkinson's and is blind but she has always enjoyed going to baseball games. In her condition taking her downtown is just not an option. She had a great time and can't wait to go back.  We had a couple of young boys with us who got to run the bases and one of your players gave one of them a baseball. He can't keep talking about it and showing it to everyone.  You should be very proud of your staff. Everyone from the two gentlemen at the entrance to the handicap parking area to the gentleman in the elevator were pleasant and very helpful. A young lady named Kris, after not having a sweatshirt at the T-shirt stand, talked to a gentlemen in a nearby office and he graciously let my mother use his jacket for the entire game.  Your staff contributed to our experience and you have some long term supporters because of them.  Once again I would like to thank you for bringing this experience to us."
David H.
"You folks are doing a great job on both the baseball and the what-it-takes-to-get-crowds side of things. Very innovative model you've established…"
Bob N.
"Thanks Andy for your dream and hospitality.  I will never forget seeing the commissioner of the league on the sidewalk outside the ballpark thanking the fans for coming!  Well done!"
Thom W., Hollywood Markets
"I want to thank you for making Friday night so special.  From the first the First Pitch, to all the amazing attention for the team.  You are rockstars!!!!"
Barbara Y.
"Thank you!!  We had a great time and my sons really liked the superheroes and the mascots!!  You have a great park, the teams are fun to watch, and the feeling is very comfortable.
We will be out again soon."
George Wainz
"I just wanted to let you know that we were at the game on Friday night. We were given seats in the Diamond Table area from ASI and we had a great time at the game and enjoyed the food and drinks. But the highlight by far was the fireworks, WOW! Those were amazing, Since you are new and small we did not expect much when we saw you were having fireworks so we were so surprised when we saw them. They are comparable to a city firework display on Fourth of July. We heard from one of your worker Zombies that that was your normal Friday night display and that July 2nd would be even bigger. We will definitely be back and will make sure it's on a fireworks night. Thank you so much for the contribution that you are making to the area you are doing a great job."
Regina G.
"It was our 1st visit to the Jimmy John's Field on Thursday & it is a fantastic ball park!  The staff was very friendly & helpful.  Food & drink prices were very reasonable.  Keep up the good work!"
Marilyn G.
"Just wanted to say your whole team/staff has done an outstanding job at the stadium.  It has been the most positive experience I've ever had bringing my family to a sporting event. We've been there twice already and will be bringing family (both in state and from NY) a couple times in July.  We'll be buying a bunch of seats for July 23 to take family to the game.  Just wanted to say it was nice chatting with you at the game and I wish you much continued success.  It's finally nice to say we have a real Gem in Macomb County and I know I am not alone in saying how thankful we are for your investment in the region.  I know the league will do great, especially now that we have a kid moving into an affiliated ball club!   That's exactly what is needed!"
Jeremiah H., The Auto Club Group / AAA Michigan
"My family and I just wanted to thank you for a great evening at the Ballpark. I would also like to inform you of your staff and the way they care for your clientele. There was not one staff member that treated us anyway but extremely cordially and extremely polite. Thanks again for a great evening looking forward to the next time we see each other."
Dennis B.
"My kids have been in the clubhouse in Arizona, Detroit, and Chicago.  They have met multiple major league players, played with their kids and babysat by their wives.  But this is the best time they have ever had at a ball game.  They cherished the autographs they got tonight more than they got from Paul Konerko and Prince Fielder.  I never would have imagined that.  10 out of 10.  Thanks for everything tonight."
Luke B.
"Thank you so much for allowing me and the Lotte Giants of KBO to come and tour your new stadium last week.  As we went back and forth as it related to the seating, I would try and visualize what you guys were trying to put together, but unless one gets to walk a place like yours, with me, I never got the true sense of accomplishment that has come together to form Jimmy John Stadium.  I've been thru so many facilities in my day, but your place    ….the very best !!!!!  As I stated too, I have 5 grandsons now and they enjoy going to baseball games with me.  I believe that when they step foot in Jimmy John, there will never be another facility they will want to go.  Just the detail you put into the playground and mini baseball field.  So many different types of experiences you allow as well.  One could probably come to the stadium a half dozen times or more, and never sit in the same type of seating twice.  So impressive!"
Mark W., National Sales Manager, American Seating
"My family and I went to the Father's Day game and had a great time! What a wonderful setup. We wondered how we can buy the drink rail tickets for next time?" 
Catherine
Thanks again for bringing baseball to Macomb County!   My family, friends and I absolutely enjoyed your ballpark. #11 from the Hoppers really did an awesome job entertaining the kids by the bullpen.  Not only did he sign autograph requests, he also actively engaged with the kids at their level.  He really seemed to care about them and created many memories that day for sure. Looking forward to opening day in May 2017!
Tim
I just wanted to send you a congratulations for an AMAZINGLY SUCCESSFUL INAUGURAL YEAR!  I am so very honored to have been there for opening day, taking pictures that was my inaugural print publication job.  I have to tell you that not only did I discover a long-standing league and venue for the Eastside, but a new friend.  Thank you for giving me the opportunity to share my passion of photography with all of Detroit.  Your dream has not only come to fruition, but has far exceeded everyone's expectations, and I mean EVERYONE.  Every mom, dad, grandfather, St. Blase parishioner have had NOTHING but wonderful things to say about the field and the league.  The best part of all is that so many people have specifically said, "WOW, the owner was asking people how they like the field, the game…and we weren't even in a suite!"  You have made the "everyday resident" feel "first-class" and that is what counts, at least in my opinion. Genuine kindness and honesty mean the world to me and that's why I admire you, your work, your vision and your dream. 
Tara