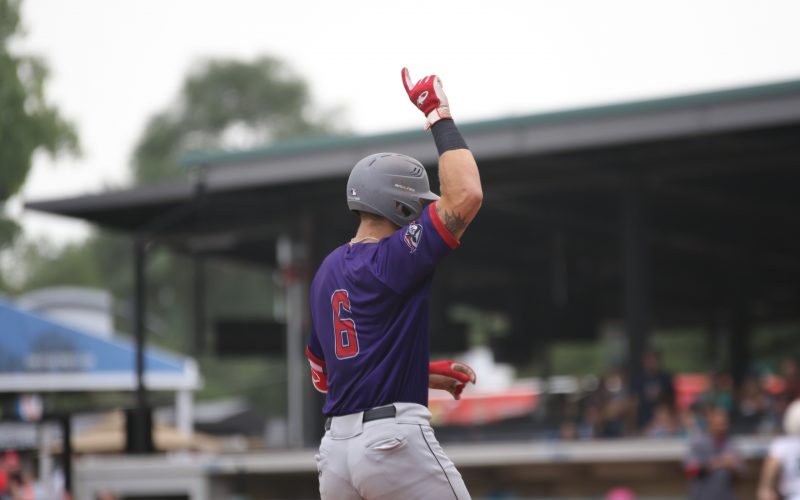 Unicorns Defeat Woolly Mammoths, 7-4
UTICA, Mich. – Dan Williams went 3-for-5 with a home run and two RBIs, while Dan Ward connected on his league-best ninth home run of the season as the Utica Unicorns (21-21) used two home runs in the ninth inning to beat the Westside Woolly Mammoths (19-22), 7-4, on Sunday at Jimmy John's Field.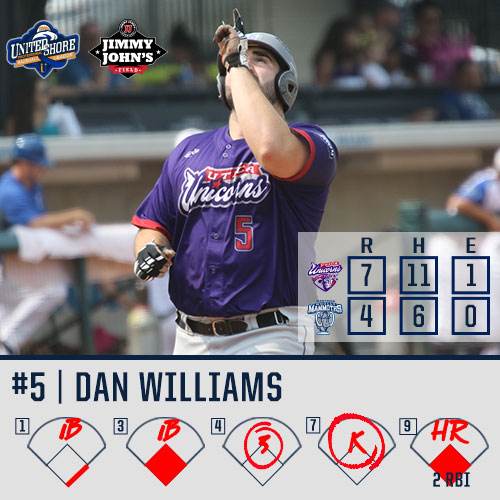 Kyle Olliges earned his a league-best seventh win, throwing a perfect eighth inning, striking out two. Sam Cottingham-Beard earned his first save of the season, retiring the side in order in the ninth.
Ethan Wiskur led the Woolly Mammoths with a three-run home run, going 2-for-4. Jackson Smith finished 2-for-5 with two runs scored.
Metro Detroit Chevy Dealers Fan of the Game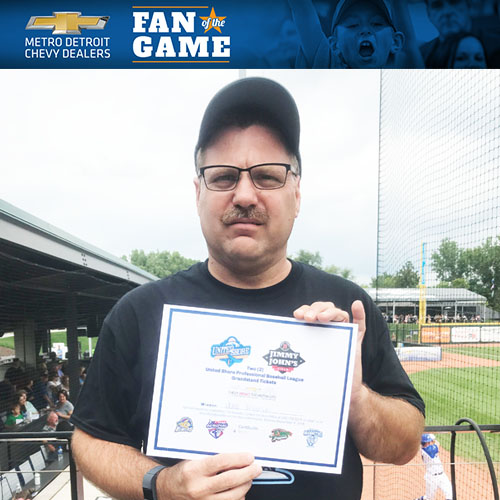 John Wisbiski
UPCOMING GAMES/EVENTS
Wednesday, August 22
Movie Night: The Incredibles, $5 per ticket, Gates open at 7 p.m. – Read More
Purchase Tickets: bit.ly/2uAps5o
Thursday, August 23
Utica Unicorns (21-21) vs. Birmingham Bloomfield Beavers (21-20), 7:05 p.m. first pitch (Gates open at 6 p.m.)
Promotions: Thirsty Thursday, presented by Dave & Buster's, Strike Out Stroke® presented by St. Joseph Mercy Oakland, UCS Back to School Night – Read More
Friday, August 24
Westside Woolly Mammoths (19-22) vs. Eastside Diamond Hoppers (21-19), 7:05 p.m. first pitch (Gates open at 6 p.m.)
Promotions: Fireworks Spectacular Friday powered by XFINITY, Detroit Pistons Night – Read More
Saturday, August 25
Birmingham Bloomfield Beavers (21-20) vs. Utica Unicorns (21-21), 7:05 p.m. first pitch (Gates open at 6 p.m.)
Promotions: 99.5 WYCD Country Music Night, Metro Detroit Chevy Dealers Scout Night – Read More
Sunday, August 26
Eastside Diamond Hoppers (21-19) vs. Westside Woolly Mammoths (19-22), 1:05 p.m. first pitch (Gates open at Noon)
Promotions: Sunday Fun Day with the Troll Princess, Kids Crafts – Read More
#YourSummerDestination