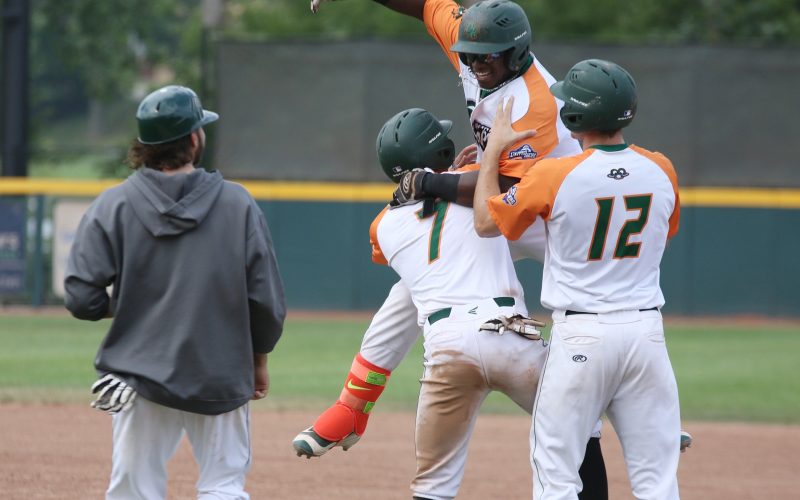 Diamond Hoppers Rally Past Beavers, 10-9 (11)
UTICA, Mich. – Brian Davis drove in the game-winning run in the bottom of the 11th inning and John Menken went 2-for-4 and drove in three runs to lead the Eastside Diamond Hoppers (17-17) to a come-from-behind victory over the Birmingham Bloomfield Beavers (19-15), 10-9 (11), in extra innings on Sunday at Jimmy John's Field.
Brandon Rawe stayed hot at the plate, hitting his third home run in his last two games, finishing the game 2-for-4, with two RBIs and walked twice. Jack Hranec drove in a game-high four runs, going 3-for-5, while Thomas Roulis added a 3-for-5 performance as well.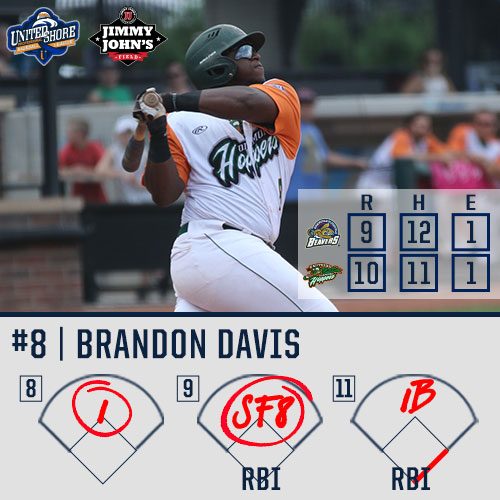 Trailing 5-0, the Diamond Hoppers scored two runs in the sixth inning and four more in the eighth inning to tie the game at 6-6. With two outs and a runner on third base in the 11th, Davis hit a hard ground ball down the first-base line that Hranec dove for and got his glove on, only to see the ball pop out and squirt away to allow the game-winning run to cross the plate.
Metro Detroit Chevy Dealers Fan of the Game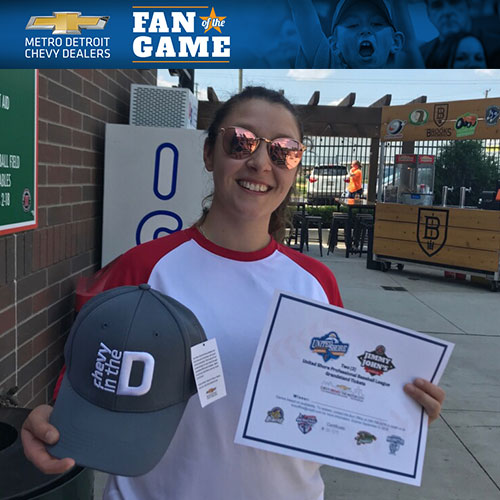 Davida Stayer
UPCOMING GAMES/EVENTS
Wednesday, August 8
Summer Movie Night – Moana (Gates open at 7 p.m., Movie at sunset) – Read More
Buy Tickets
Thursday, August 9
Utica Unicorns (16-19) vs. Westside Woolly Mammoths (17-18), 7:05 p.m. first pitch (Gates open at 6 p.m.)
Buy Tickets
Promotions
Thirsty Thursday, JJ The Field General Bobblehead Night, Cadillac's Band presented by Agrati Group – Read More
Friday, August 10
Westside Woolly Mammoths (17-18) vs. Birmingham Bloomfield Beavers (19-14), 7:05 p.m. first pitch (Gates open at 6 p.m.)
Buy Tickets
Promotions
Catholic Night at the Ballpark presented by Alliance Catholic Credit Union, MetroPCS Fireworks Spectacular – Read More
$20 ticket includes access to the Private Teen Zone in the Chevrolet Pavilion for the Teen Dance Party, Pizza, and Unlimited Soft Drinks & Water, Fireworks Spectacular.  The Chevy Pavilion will feature a DJ playing today's top hits, assorted candy bar to make you own candy bag ($5), slushies ($4), photo stations, the opportunity to be selected to participate in on-field contest during the baseball game. Show your school ID and get $1 off Dippin Dots. Ages 13-16 years old.
Buy Tickets
Saturday, August 11
Birmingham Bloomfield Beavers (19-14) vs. Eastside Diamond Hoppers (16-17), 7:05 p.m. first pitch (Gates open at 6 p.m.)
Buy Tickets
Promotions
World Famous ZOOperstars! presented by MC Dental, professional baseball's top promotion – Read More
Sunday, August 12
Eastside Diamond Hoppers (16-17) vs. Utica Unicorns (16-19), 1:05 p.m. first pitch (Gates open at Noon)
Buy Tickets
Promotions
World Famous ZOOperstars! presented by OUR Credit Union, professional baseball's top promotion – Read More
#YourSummerDestination