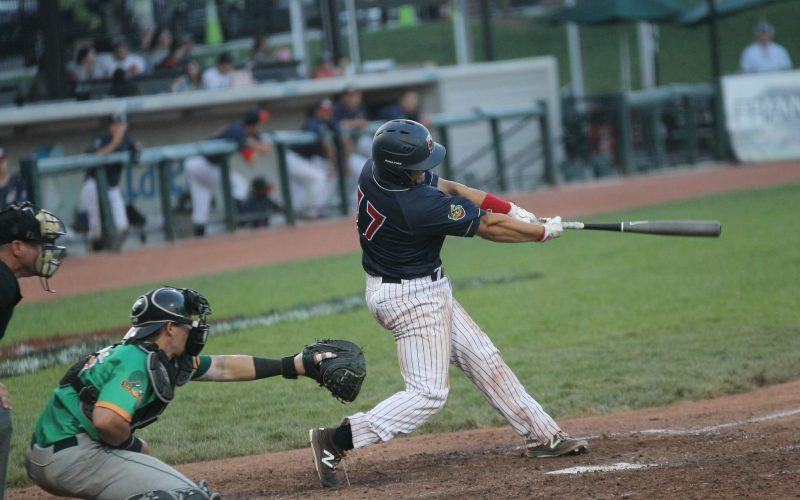 Beavers Top Hoppers 7-3
By Steve Marowski
Birmingham-Bloomfield Beavers 7 vs. Eastside Diamond Hoppers 3
Utica — With a five-run fifth inning that included a two-RBI triple from Robert Lucido, the Birmingham-Bloomfield Beavers defeated the Eastside Diamond Hoppers, 7-3.
Lucido finished the day 2-3 with a double, a triple and two RBI's.
"This kind of game was a testament to how these guys were raised and how they go about their business," Beavers Manager Chris Newell said.
In the top of the second inning, the Diamond Hoppers took a 1-0 lead on a solo home run by Esteban Gomez.
The Beavers would tie the game at one on an RBI fielder's choice by Nic Wilson. However, in the top of the fourth inning, the Diamond Hoppers regained the lead with an RBI groundout by Casey Chenoweth and an RBI single by Brandon Oliver.
In the bottom of the fifth, the Beavers exploded for five runs. Dan Kennon's two-RBI single tied the game at three, and Lucido's triple gave the Beavers a 5-3 lead. Lucido eventually scored on a wild pitch to take a 6-3 lead.
A solo home run by Rob Paller scored the Beavers seventh and final run.
Upcoming Games
Friday, July 7, Utica Unicorns vs. Westside Woolly Mammoths, 7:05 p.m. (Fireworks Friday presented by XFINITY)
Saturday, July 8, 2017 USPBL All-Star Game, 7:05 p.m. (USPBL All-Star Game presented by Dave & Buster's featuring America's Got Talent Quick Change)
Sunday, July 9, Eastside Diamond Hoppers vs. Westside Woolly Mammoths, 1:35 p.m. (Superhero Day)
Standings
1. Eastside Diamond Hoppers 13-11
2.Westside Woolly Mammoths 12-11
3. Utica Unicorns 12-12
4. Birmingham-Bloomfield Beavers 11-14