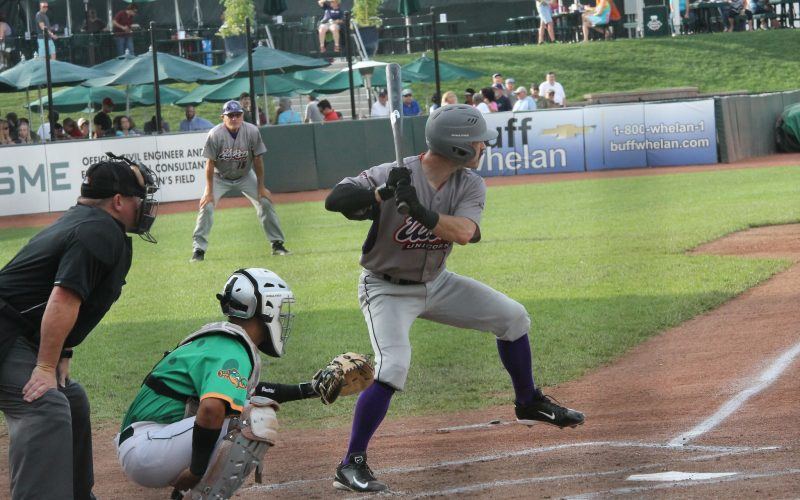 Unicorns Win 8-6 Over Diamond Hoppers
By Steve Marowski
Utica Unicorns 8 vs. Eastside Diamond Hoppers 6
Utica — With a five-run sixth inning, the Utica Unicorns defeated the Eastside Diamond Hoppers, 8-6.
Unicorns second baseman Connor Reynolds was 2-3 with two walks, and four different Unicorns had RBI's in the victory.
"We were pretty fortunate tonight and we were just happy to get the win," Unicorns Manager Jim Essian said.
The Unicorns took an early lead after Collin Thacker was hit by a pitch with the bases loaded. Chris Cruz followed with a sacrifice fly to make it 2-0.
After a solo home run from Chris Power made it 2-1 in the bottom of the first, an RBI single by Brett Balkan put the Unicorns up 3-1 in the top of the second.
The Diamond Hoppers came back to tie the game at three on RBI doubles by Kam Stewart and Ian Mikowski in the bottom of the second inning.
The game remained tied at three until the top of the sixth inning when Greg Jones hit an RBI double to make it 4-3. The Unicorns would score four more in the inning and take an 8-3 lead.
The Diamond Hoppers scored three runs in the bottom of the ninth but came up just short of sending the game to extra innings.
Power and Ricky Castro were each 2-5 with two RBI's in the Diamond Hoppers loss.
Upcoming Games
Saturday, July 1, Utica Unicorns vs. Westside Woolly Mammoths, 7:05 p.m. (WCSX Classic Rock Saturday)
Sunday, July 2, Birmingham-Bloomfield Beavers vs. Westside Woolly Mammoths, 1:35 p.m. (Minions and Kids Candy Hunt)
Monday, July 3, Birmingham-Bloomfield Beavers vs. Utica Unicorns, 1:35 p.m. (Independence Celebration/Star Spangled T-Shirt Giveaway/Hospitality Worker Appreciation)
Standings
1. Utica Unicorns 12-10
2. Eastside Diamond Hoppers 12-10
3. Westside Woolly Mammoths 11-10
4. Birmingham-Bloomfield Beavers 8-13