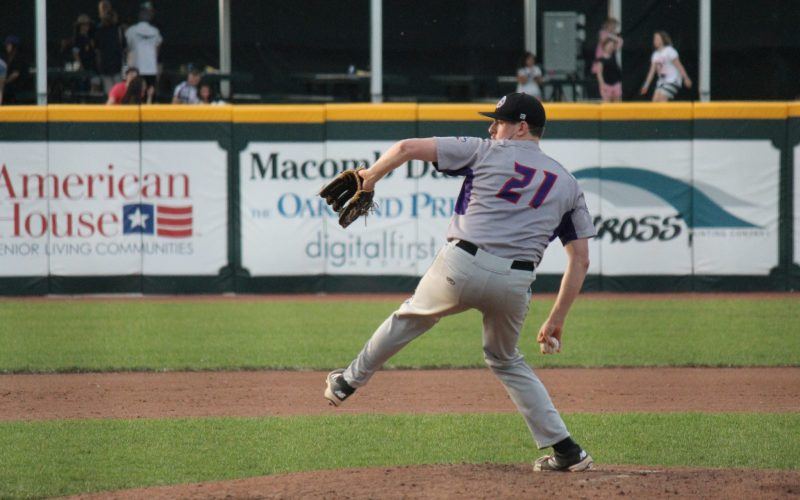 Murray Dominates in Unicorns 7-1 Win
By Steve Marowski
Utica Unicorns 7 vs. Westside Woolly Mammoths 1
Utica — Unicorns starting pitcher Donny Murray threw seven innings of one-run ball, and the Unicorns offense came through with three runs in the fifth inning, one in the sixth inning and three in the seventh inning to defeat the Westside Woolly Mammoths, 7-1.
In his seven innings, Murray gave up just one run, one walk, five hits and struck out eight.
The Mammoths took a 1-0 lead on a solo home run by Hagen Wilkey, but Murray would find his groove for the next four innings.
"I started to feel a little bit better around the third or fourth inning," said Murray. "I made one mistake with the home run, but other than that I felt pretty good."
The Unicorns came back in the fifth inning with three runs of their own. Taylor Grzelakowski hit an RBI single, and Mike Rampone followed with a two-RBI double to left field to give the Unicorns a 3-1 lead. Clay Ardeeser hit an RBI double in the sixth inning to make it 4-1.
Grzelakowski ended the day going 2-5 with an RBI and a run scored, and Ardeeser was 1-3 with a walk, an RBI and a run scored.
In the top of the seventh, Brandon Rawe and Chris Cruz hit back-to-back RBI singles, and Brandon Larkin-Guilfoyle hit a two-RBI double to make it a 7-1 ballgame in favor of the Unicorns.
"We were able to string some hits together and got a comfortable lead, and it was a good all-around game for us," Unicorns Manager Jim Essian said.
Unicorns shortstop Brett Balkan was 2-4 with two singles and two runs scored in the victory.
The Unicorns will be back in action on Sunday, June 4, when they take on the Eastside Diamond Hoppers.
Upcoming Games
Sunday, June 4, Utica Unicorns vs. Eastside Diamond Hoppers, 1:35 p.m. (World Famous ZOOperstars!)
Thursday, June 8, Westside Woolly Mammoths vs. Birmingham-Bloomfield Beavers, 7:05 p.m. (Greek Heritage and Eastern Michigan Night/Thirsty Thursday)
Friday, June 9, Birmingham-Bloomfield Beavers vs. Eastside Diamond Hoppers, 7:05 p.m. (Fireworks Friday/Meet the Hoppers)
Saturday, June 10, Westside Woolly Mammoths vs. Utica Unicorns, 7:05 p.m. (WCSX Classic Rock Saturday/First Responders Night/Boy Scouts Sleepover)
Sunday, June 11, Eastside Diamond Hoppers vs. Utica Unicorns, 1:35 p.m. (Princess Day/Princess Breakfast)
Standings
1. Utica Unicorns 7-4
2. Eastside Diamond Hoppers 7-5
3. Westside Woolly Mammoths 5-6
4. Birmingham-Bloomfield Beavers 4-8